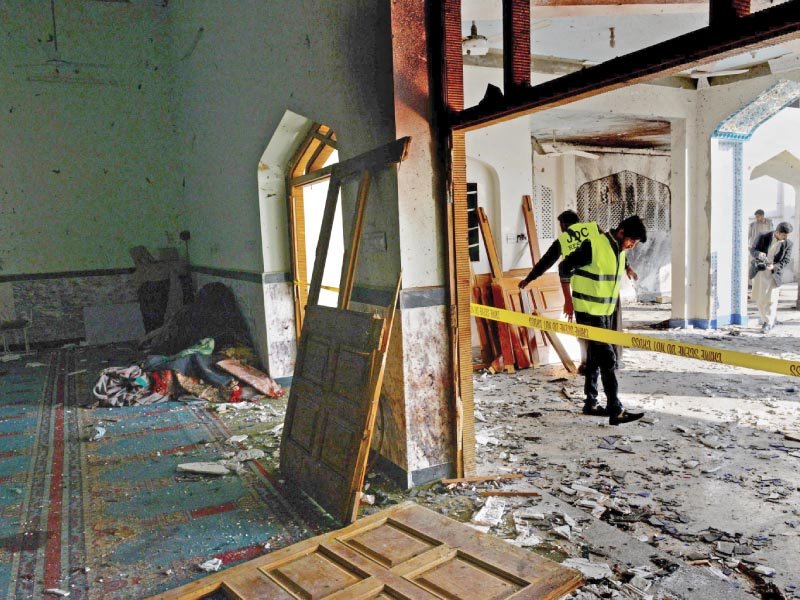 ---
PESHAWAR:



The death toll from Friday's gun and suicide attack at Imamia Masjid, Hayatabad, rose to 22 on Saturday as police officials said the same Taliban group which masterminded the December 16, 2014 school carnage carried out the mosque bombing.




Most of the 59 worshippers injured in the mosque attack were driven to the Hayatabad Medical Complex where, according to medics, two of them died during the course of treatment on Saturday. They were identified as Kashif Hussain and Ali Hassan.  A senior official from the Counter-Terrorism Department (CTD), which is investigating the case, said the three suicide bombers who drove to the upscale neighbourhood in a Toyota Corolla car had entered Peshawar through an unfrequented route.

"Once you are inside Hayatabad and wearing paramilitary uniform, it is unlikely that anyone would stop you because the posh town is home to the headquarters of two paramilitary forces," the official said. The Umar Mansoor group of the Tehreek-e-Taliban Pakistan (TTP) claimed credit for the deadly bombing and released the purported pictures and names of the bombers.

"The same Umar Mansoor group had also carried out the massacre at the Army Public School in Peshawar. Both attacks are near identical," the official said, adding that the group's lynchpin, Aurangzeb, alias Umar, alias Naray, has been nominated in the FIR.

Aurangzeb, a resident of Adezai, a village on the edge of Peshawar, was previously TTP's chief in the area, the official said. He was later made head of TTP's Darra Adam Khel chapter after the death of commander Tariq Mansoor.

The official said three police and four private guards were deployed at the mosque at the time of the attack, but the terrorists scaled the wall of an adjacent under-construction building to enter the mosque. The terrorists first entered the house of the prayer leader on the mosque premises and killed his son and nephew before heading for the main prayer hall.

"We found a document supposedly carried by one of the bombers which shows that he is a resident of Khyber Agency," he said, adding that security forces have detained several suspects on the basis of this document. The chassis and engine numbers of the car used in the attack have been shared with the Excise and Taxation Department.

Two AK-47 assault rifles have also been recovered from the site which suggests that two of the terrorists were armed with rifles while the third was only wearing a suicide vest.

Published in The Express Tribune, February 15th, 2015.