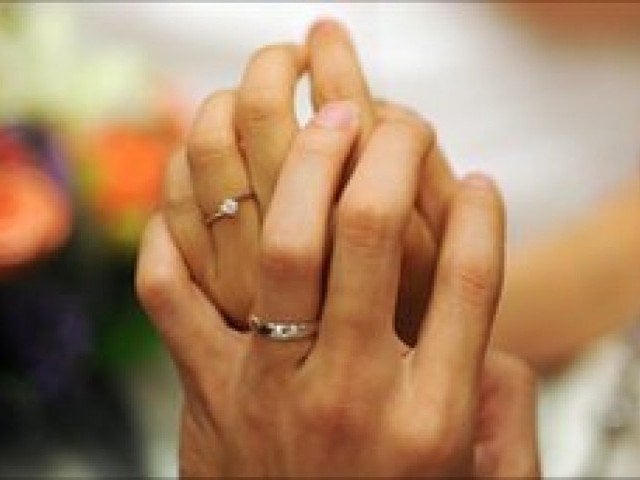 ---
HYDERABAD: While the Sindh Child Marriages Restraint Act has been in place since June 2014, awareness and enforcement of the act are still lacking. As a result, the bedevilled segments of society continue to cherish this 'tradition'.

In an attempt to sensitise people about the adverse effects of marrying underage girls, non-profit organisation Rutgers WPF is carrying out a campaign in Karachi and Sanghar with the help of school girls.

A conference, titled 'She Leads, Campaign against Child Marriages', was organised at Indus Hotel on Wednesday. Young schoolgirls, nominated as 'Kirans' [rays of hope], shared their experiences and resolve. Students belonging to the Sanghar district attended the event, which was organised by Rutgers WPF in collaboration with the Sindh Agriculture and Forestry Workers Coordination Organisation.




"When I began campaigning, my neighbours and other people began complaining to my family," said Misbah, a student of the Shaheed Benazir Bhutto High School, Sanghar. "They blamed us for misguiding their girls against marriage."

Despite this opposition, Misbah was supported by her father. During the course of her year-long campaign, she, along with 119 other Kirans in Sanghar, paid multiple visits with their teachers to villages and towns. They went door-to-door and convened meetings in schools and public places to brief them about the consequences of early marriages.

"We had to explain again and again what the consequences are on health when a girl is married and made to bear children at an early age," said Maimona Kanwal, a student of Shaheed Benazir Bhutto High School, Tando Adam. "Some of them understood at once while others took multiple meetings for the same purpose. But they all cited various reasons, such as culture, bad economic situation and other issues, which lie at the root of this problem."

Dr Yasmeen Qazi, the senior country adviser of the programme's donor, Packard Foundation, said the long-term solution of this problem can be achieved through addressing the underlying factors. "With the help of law and awareness we can suppress the issue for a short-term," she said. "But we will have to address factors like tradition, poverty and other circumstances which provide a reason for such marriages."

Rutgers WPF regional programme officer Saima Sadaf said that awareness about maternal health is also part of the project. But they faced hardship as the schoolteachers and students lacked the prerequisite knowledge of the subject matter. "The Rutgers WPF will hire the services of 20 lady health workers to address this issue during the on-going campaign," she said.

Each of the students and teachers who participated in the project were given tablet phones. The campaigners also surveyed 559 married women to ascertain how many of them were married or gave birth before they turned 18. Around 61 per cent of the respondents said they were given into marriage before they came of legal age and 41 per cent said they became mothers before attaining this age.

Published in The Express Tribune, February 13th, 2015.
COMMENTS
Comments are moderated and generally will be posted if they are on-topic and not abusive.
For more information, please see our Comments FAQ