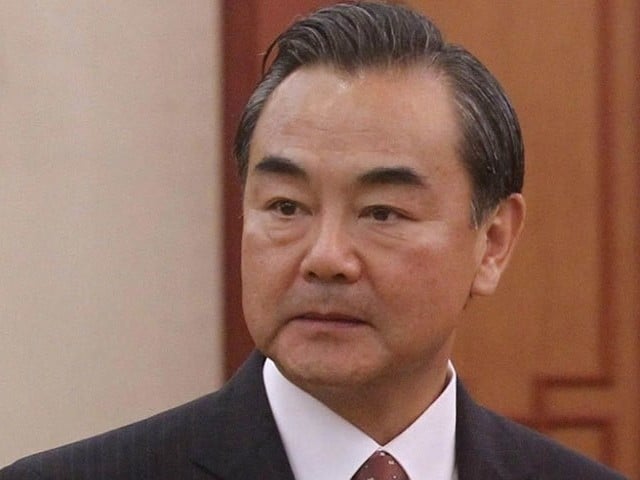 ---
ISLAMABAD: Addressing a joint press conference, Chinese Foreign Minister Wang Yi confirmed President Xi Jinping would be making his first state visit to Pakistan within the next few months and expressed appreciation for the profound friendship it has developed with Pakistan over the years. 

"That will be his first visit to Pakistan as the head of state of China and that will be the first visit of its kind in 9 years," he said.

After meeting with President Mamnoon Hussain and Prime Minister Nawaz Sharif on the first day of his official two-day tour, the foreign minister said that Pakistan and China are in agreement of everything that was discussed.


RELATED: Chinese foreign minister arrives in Islamabad for state visit 


"During my discussion with Sartaj Aziz, we agreed on everything. This shows the high degree of trust and support between the two countries," Yi said.

The foreign minister assured that progress would be made on the Pak-China corridor and all other projects would also progress efficiently.

Counter-terrorism was also at the forefront of discussions between the two countries as "counter-terrorism corporation is vital to ensure our security," he said.

Commenting on China and Pakistan's role in Afghanistan after the withdrawal of US troops, Yi said "ending Afghanistan's turmoil was a common aspiration for both countries."

He also assured that China would deliver its solemn commitment to Afghanistan.

"China is ready to play its necessary role and will deliver its commitment in terms of security, economy and support," the foreign minister said, adding that "only with smooth progress can Afghanistan realise its potential and embrace a brighter future."

Further strategic and economic cooperation between the two countries will be discussed in the two-day visit.


RELATED: Chinese foreign minister to visit Pakistan soon, says FO spokesperson


"The two sides will cover an entire spectrum of bilateral relations and discuss regional issues of common interest as per our tradition and practice," Foreign Office spokesperson Tasnim Aslam had said when she announced the visit on February 6.

China ready to support Kabul-Taliban reconciliation

Beijing is ready to support the Afghan government in reconciling with the Taliban, the Chinese foreign minister said Thursday, further indicating China's desire to expand its role in its war-torn neighbour.

Wang Yi said that Afghanistan's long-term stability depended on a "broad-based and inclusive national reconciliation" which needed international support.

Afghan President Ashraf Ghani visited Beijing in October, soon after taking office, and China promised $245 million in "free assistance", having already secured major oil and copper-mining concessions in the country.

But China has previously said little about supporting political efforts in Afghanistan, with which it shares a 76-kilometre border.

Wang said that with NATO's combat mission in Afghanistan having finished in December, it was time to end the country's decades of turmoil and poverty.

"We will support the Afghan government in realising reconciliation with various political factions including Taliban," Wang told a news conference in Islamabad, speaking through an interpreter.

"The international community needs to give support and encouragement. China is ready to play a constructive role and will provide necessary facilitation any time if it is required by various parties in Afghanistan."

Wang made the comments at a joint press conference with foreign affairs adviser Sartaj Aziz. He also announced Chinese President Xi Jinping would visit Pakistan "at an early date this year".

Last month the Taliban, still resilient despite NATO's 13-year war against them, said they had sent a delegation to China, in an English-language statement posted on their website.

The militants insisted the visit was not for the purposes of mediation.
COMMENTS (19)
Comments are moderated and generally will be posted if they are on-topic and not abusive.
For more information, please see our Comments FAQ