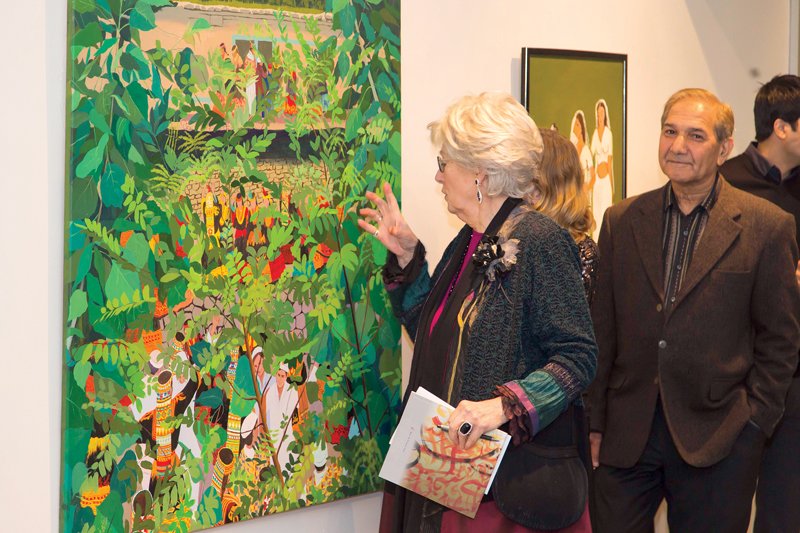 ---
ISLAMABAD: In the wake of the National Women's Day, the Danish Embassy in collaboration with Nomad Centre and Art Gallery exhibited the work of emerging female artists from across the country on Saturday evening.

A total of 12 artists from all over Pakistan exhibited a dynamic collection of 27 pieces at a space in the ambassador of Denmark's residence. The zestful mix-media works by Rukhe Neelofar, Sadia Hussain, Tayyaba Aziz, Anjum Ayub, Iram Wani, Nahid Raza, Samina Ali, Farrah Adnan, Komal Shahid, Sumaira Jawad, Ayesha Siddiqui and Farrah Khan showcased dynamic work that came with a message of empowerment and hope for women.

A large gathering of diplomats, officials and art enthusiasts came to attend the event and got an opportunity to learn about the work of the emerging female artists.  Nageen Hyat, curator of Nomad gallery, gave a presentation and spoke about women in marginalised communities and problems faced by even liberal and prolific segments of the society. "The works highlight culture and human rights issues faced by women," she said.

Hyat said the initiative by the Danish envoy was welcoming and appreciable, adding that the space was inviting and a great platform to reach out to a larger audience. "It will go far beyond from just the residence. There has been a great response on social media and that is the way art will get the recognition it deserves," she stated.

In his address to the gathering, ambassador Jesper Sorensen termed the exhibition a collection of exciting art from some very talented Pakistani women.




"I was amazed to see the level of interest for the exhibition. The large crowd is evidence that people in Pakistan are craving for art, for culture," he said, explaining that art and culture are important means to bridge differences and create tolerance in society.

It is no coincidence that we decided to focus on and provide a platform to female artists as in 2015, we celebrate the 100th anniversary for women's rights to vote in Denmark, explained the ambassador. All of our activities will have gender as a cross-cutting feature this year, and we also have gender-specific projects as part of both our development and stabilisation activities, he shared.

"By integrating gender in the mainstream planning of peace, security, and humanitarian actions, we not only promote women empowerment and participation but also believe that we help build stronger communities," he said.

The ambassador informed that Denmark will soon launch a cultural programme as an integral part of its support to the people of Pakistan. The group exhibition will be showcased by artists at Nomad Art Gallery on February 12.

Published in The Express Tribune, February 9th, 2015.

 
COMMENTS
Comments are moderated and generally will be posted if they are on-topic and not abusive.
For more information, please see our Comments FAQ