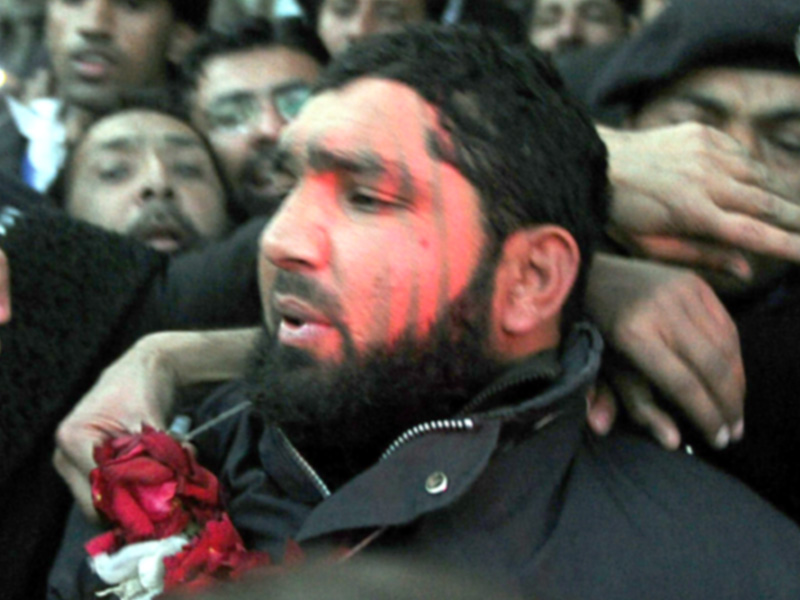 ---
ISLAMABAD: Mumtaz Qadri appealed on Tuesday against his death sentence for murdering Punjab governor Salmaan Taseer who sought reform of blasphemy laws, as hundreds rallied outside the court to show support.

Mumtaz Qadri was sentenced for killing Taseer outside an upmarket coffee shop in Islamabad in 2011.

Qadri has admitted shooting Taseer, saying he objected to the politician's calls to reform strict blasphemy laws which can carry the death penalty.

Around 300 of Qadri's supporters chanted slogans calling for his release as a two-judge bench at Islamabad High Court began hearing the appeal.


RELATED POST: Mumtaz Qadri's appeal: Islamabad AG expected to lead prosecution


Blasphemy is a hugely sensitive issue in Pakistan. Qadri has been hailed as a hero by many conservatives eager to drown out any calls to soften the legislation.

At his original trial, Qadri was showered with rose petals by some lawyers. His current appeal team features two judges, including the former chief justice of Lahore High Court.

Outside the court, protesters wearing shirts with the logo of religious movement Pakistan Sunni Tehreek shouted "The lock of the prison will break, Qadri will be released!" and "Be ashamed, release Qadri!"

Malik Muhammad Safeer, Qadri's brother, urged his release.

"My brother has done nothing wrong. He is happy and satisfied in the prison and always prays to God. Salman Taseer was killed because he committed blasphemy," he told AFP.

Defence lawyers said they expect the appeal to be decided within weeks.

Prime Minister Nawaz Sharif lifted a moratorium on executions in terror cases in December after Taliban gunmen massacred 150 people at an army-run school in Peshawar.

But executing someone convicted of murdering a "blasphemer" would risk a backlash from hardline religious groups and even more moderate public opinion.

After Qadri was convicted in 2011, dozens of furious lawyers ransacked the courtroom of the judge who had sentenced him to death.