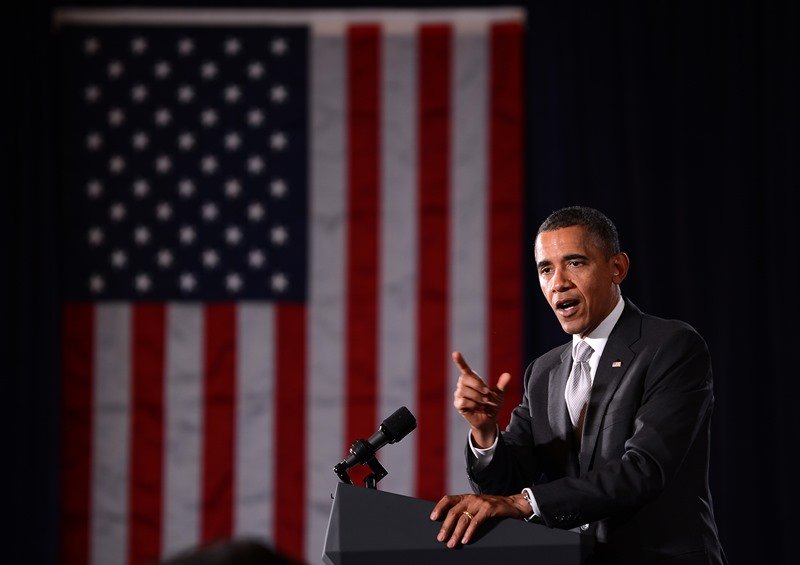 ---
ISLAMABAD:



Away from the media glare and the pageantry of his high-profile visit, US President Barack Obama asked Indian Prime Minister Narendra Modi to resume the stalled peace process with neighbouring Pakistan during their recent meeting.




A senior official familiar with the development told The Express Tribune on Sunday that Washington has informed through diplomatic channels that Obama "privately encouraged and pushed" Modi to review his approach towards Pakistan.

The US president told Modi that despite ongoing tensions, India must remain engaged with Pakistan. The official, who requested not to be named because of the sensitivity of the issue, said Modi was informed that Pakistan had taken 'serious steps' in recent months to eradicate terrorism.

Obama particularly referred to the Pakistan government's efforts to ensure that Zakiur Rehman Lakhvi, the alleged mastermind of the November 2008 Mumbai attacks, remains incarcerated.

The official said that the US intervention at the highest level raised the possibility of resumption of talks between the two nuclear-armed neighbours. A diplomatic source claimed that the moribund talks might resume in March.

The US State Department also indicated that Washington was 'consistently' encouraging both Islamabad and New Delhi for dialogue.

"We consistently encourage dialogue between India and Pakistan. And obviously, the scope and scale of the process there is up to those countries to determine," State Department spokesperson Jen Psaki told reporters in Washington last week. However, she refused to comment when pressed whether President Obama had raised the issue with the Indian leadership during his New Delhi trip.

The American reluctance to publicly acknowledge its 'intervention' is attributed to the fact that India does not want to be seen taking 'dictation' from outside due to domestic compulsions.

International relations expert Dr Ishtiaq Ahmed believes the United States, as a global power, can influence India's policy vis-a-vis Pakistan.

"In fact the deepening relationship between the US and India is not something really bad for Pakistan," said Ishtiaq, who is a Jinnah Fellow at the Oxford University London.

He added that India's 'dependency' on the United States, be it defence or nuclear areas, means Americans will have more 'leverage' over the administration in New Delhi.

The process of negotiations between Islamabad and New Delhi has remained suspended despite a promising start when Prime Minister Nawaz Sharif attended the swearing-in ceremony of Indian Prime Minister Modi in May last year.

The two neighbours were set to hold foreign secretary level talks in August last year but the Modi government cancelled the meeting at the last moment as a protest over Pakistan high commissioner's meeting with Kashmiri separatists.

Prospects of normalisation of ties dimmed because of frequent skirmishes between Pakistani and Indian troops along the Line of Control (LoC) and working boundary. The two countries accused each other of initiating the hostilities.

Published in The Express Tribune, February 2rd, 2015.
COMMENTS (53)
Comments are moderated and generally will be posted if they are on-topic and not abusive.
For more information, please see our Comments FAQ