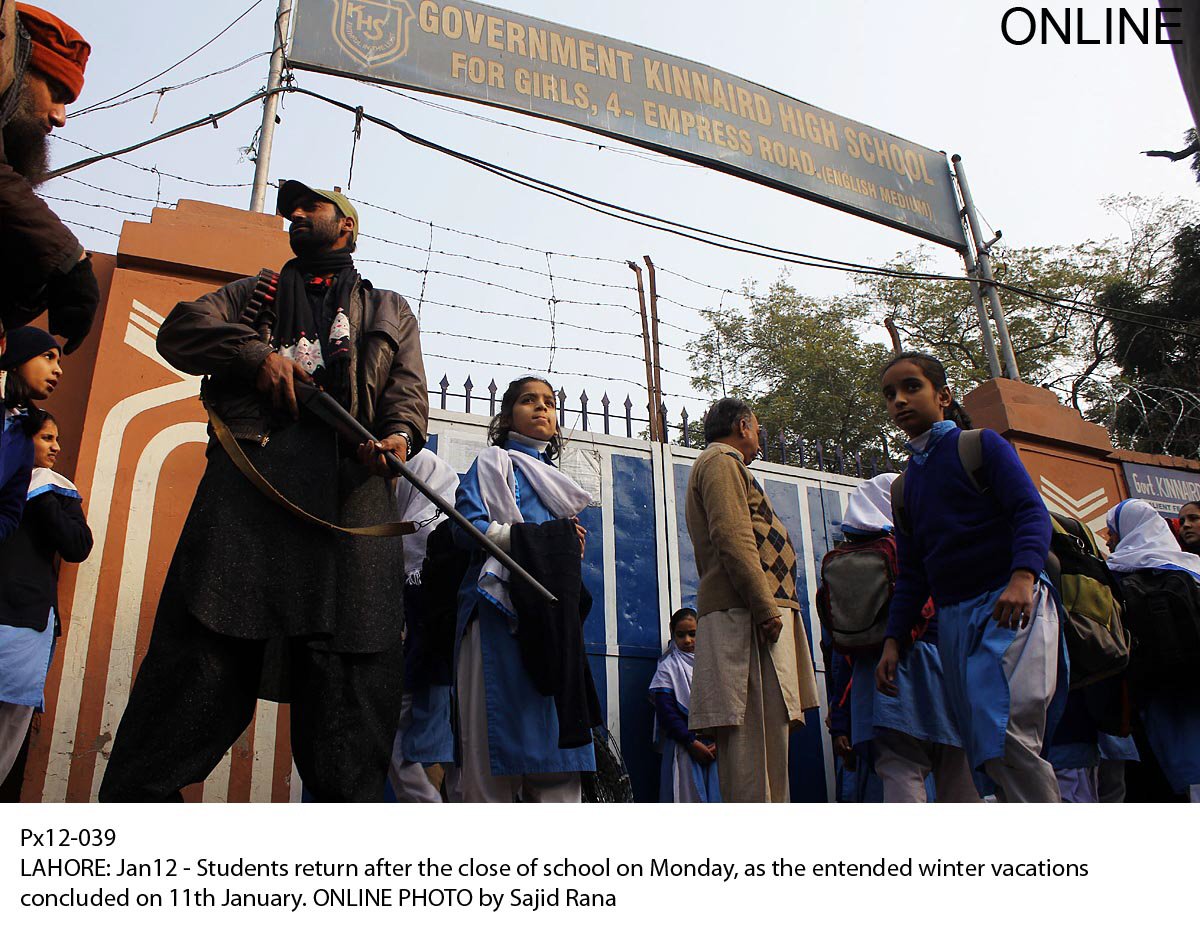 ---
KARACHI: The Sindh High Court (SHC) bench was unhappy on Wednesday when the home and education department secretaries failed to submit a report outlining the measures taken to provide security to schools.

The division bench, headed by SHC chief justice Maqbool Baqar, gave the officials one more week to submit the reports. Otherwise, both the secretaries will be given appropriate orders to personally appear before the bench on January 28.

The bench was hearing a petition jointly filed by the Pakistan Institute of Labour Education Research, the Pakistan Fisherfolk Forum and human rights activist Javed Iqbal Burki, who claimed that the students and employees of educational institutions across the country are under threat, following the deadly terrorist attack on Army Pubic School in Peshawar on December 16, 2014, when nearly 148 people were killed.

According to intelligence reports, claimed the petitioners, welfare schools run by communities in Karachi are at high risk. Some private institutions and schools have also complained of receiving threats from banned militant groups, they said.

All schools in the province were scheduled to reopen after winter vacations on January 12 but certain schools have delayed resuming educational activities due to such threats, the petitioners pointed out. They recalled that the Sindh government had decided, on January 8, that only those schools, where so-called foolproof security arrangements have been made, will reopen on January 12.

They claimed that other provinces, such as the Punjab and Khyber-Pakhtunkhwa, and the Islamabad Capital Territory have formulated standard operating procedures. They have told their school administrations to raise boundary walls topped with barbed wires, install CCTV cameras, etc.

The petitioners claimed that nothing has been done to promulgate such SOPs in Sindh, where the authorities have put the responsibility of educational institutions' protection either on the school management or the parents.

They claimed that the provincial government spent Rs200 million every month on the security of 600 VIPs, including the ministers and the foreigners. But the government is doing nothing substantial for the security of the schools and colleges, they alleged.

On January 15, the SHC bench issued notices to the chief secretary, and the home and education secretaries to submit detailed report on the measures taken for the protection of educational institutions, including but not limited to, the standard operating procedures proposed by them.

The judges had also directed them to provide details of the deployment of security personnel on such institutions by the next hearing. When the matter was taken up on Wednesday, none of them filed any report. Instead, a provincial law officer requested for more time.

This made the judges upset but they allowed the authorities one more week, with a warning that the secretaries will be asked to appear in person if the reports are not submitted by January 28.

Published in The Express Tribune, January 22nd, 2015.
COMMENTS
Comments are moderated and generally will be posted if they are on-topic and not abusive.
For more information, please see our Comments FAQ