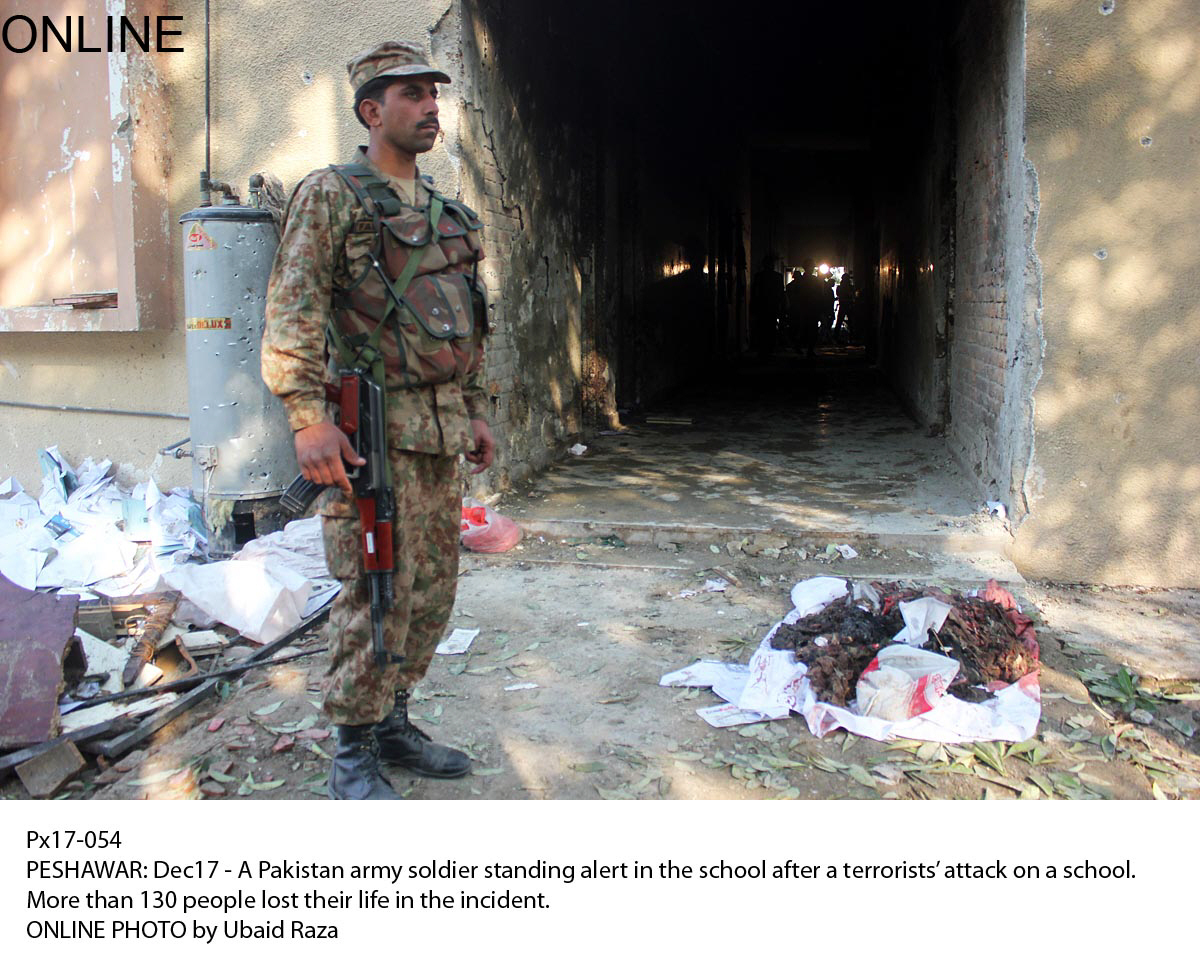 ---
PESHAWAR:
The end of a seven-hour long siege of the school morphed into gory visuals of pools of blood, classrooms turned into rubble and pockmarked walls. Around 150 people, most of them students, were killed in cold blood, leaving Peshawar and the rest of the nation grappling with the horrors unleashed.

The trauma and pain not only unified a grieving nation, as all leaders across the political spectrum joined hands to fight terrorism, but also proved to be a rallying point for a nation divided along political, ethnic and religious lines. The all-parties conference (APC) in Peshawar and the preparation of the National Action Plan against terrorism mirrored the political consensus needed to fight terror. Military courts for the speedy trial of militants were one of the steps taken in the immediate aftermath of the attack.

The government also lifted the moratorium on the death penalty and hanged some of the convicted terrorists languishing in jails. In many ways, December 16, 2014 changed Pakistan.

This was the first time Pakistanis acknowledged this war as their own. For over a decade, political parties and groups dubbed this war as America's war, even though over 50,000 Pakistanis lost their lives in the country's streets and bazaars. The traumatic events of that day gave hope to this nation that they can join their hands to eliminate this evil from their midst. The Peshawar attack was a tipping point for the state's follies and blunders, dubious labels like strategic depth and the good and bad Taliban pursued with much gusto for over four decades.

Our security apparatus's hobnobbing with militant outfits of different hues, use of proxies and fiddling with terrorism ultimately showed us this day. However, one can now see a marked change in the security establishment's view of terrorism. The way the army chief rose to the occasion is commendable and his intervention is probably a major factor in forcing all wavering politicians to get their act together.




General Raheel Sharif along with DG ISI visited Afghanistan a day after the attack to take up the issue of cross-border terrorism with their counterparts across the Durand Line. Since then, a delegation of Pukhtun nationalist parties has visited Kabul to meet the Afghan leadership.

Any understanding to eliminate terrorist sanctuaries on both sides of the divide is a single step that can repair relations and build trust between the two neighbours. Only peaceful coexistence can heal the wounds of both countries, otherwise, some other group or power may benefit.

Yet, looking back a month after that traumatic day it still seems that we have not learnt much. One can foresee politicians thinking they have done their duty after passing the 21st Amendment and approving the National Action Plan. They are going back to their usual catfights. Pakistan Tehreek-e-Insaf (PTI) and Pakistan Muslim League-Nawaz (PML-N) have returned to the fighting arena, starting from where they left it on December 16.

It would be a sad spectacle to see PTI protesting on January 18 in Islamabad to press its demand of opening four constituencies, while families across K-P grieve their loss.

PTI is ruling this war-battered province and its people need Imran Khan to be among them: share their grief and push Pervez Khattak and his cabinet towards fulfilling his electoral promises. Wednesday's reception of Imran by angry parents of APS victims is a telling sign of days to come, if Imran Khan and his party do not mend their ways.

On the other hand, religious parties have opened another front, terming the resultant consensus as 'anti-religion'. The tragedy was probably not potent enough to shake them out of their cocoon of denial, where they have buried themselves deeply. They are perhaps forgetting the fact that religion is being used to justify killing innocent Pakistanis for the past several decades. At a gathering arranged by Jamaat-e-Islami (JI) in Peshawar in memory of the victims, political leaders failed to mention the Taliban by name even once; nothing can be more telling. Days after, the same happened in the K-P Assembly: no one named the Taliban for killing schoolchildren in the flurry of speeches delivered to condemn terrorism. The word terrorist is too generic, being used to obfuscate and as a cover to not name the Taliban.

In the end, the political and military leaderships should both be mindful of the fact that they have failed to offer the 180 million people of this country their basic right to security and a life free of fear and want. This nation expects them to make up for their historical failures and not let another tragedy like Peshawar visit the country. Otherwise, it would be a betrayal to the innocent blood of APS's children.

Published in The Express Tribune, January 17th, 2015.
COMMENTS
Comments are moderated and generally will be posted if they are on-topic and not abusive.
For more information, please see our Comments FAQ