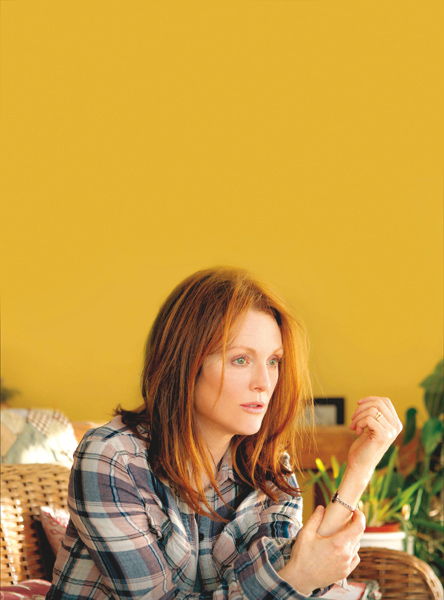 ---
For someone who has witnessed the struggles of Alzhiemer's first-hand, Still Alice strikes home with its honest and compassionate treatment of the subject. Based on the novel of the same name by writer and neuroscientist Lisa Genova, the film recounts the life of a linguistics professor at Columbia University, Dr Alice Howland, who finds out that she is suffering from early-onset Alzheimer's. The disease makes managing her marriage, her work and the relationship with her children a Sisyphean task as it chips away at the very core of her identity and accomplishments.

Julianne Moore is spectacular in her portrayal of Alice — a woman slowly losing grip on her mind while traversing a gamut of emotions with just an arch of an eyebrow. Her sublime performance has already won her a Golden Globe, a nomination for a BAFTA and could also finally land her the Academy Award. Alec Baldwin plays Dr John Howland, Alice's ambitious medical researcher husband who labours to be there for his wife. Their children, Anna, Lydia and Tom are played by Kate Bosworth, Kristen Stewart and Hunter Parish respectively and while all of them give strong performances, Stewart's is especially notable.

The disease and its progression are documented from Alice's point of view so the viewer has to pay attention to the little details as they unfold to truly appreciate the dexterity of the screenplay. What makes Still Alice a tough watch is witnessing how Alice's decline causes her to only faintly resemble the fierce woman she once was, and eventually become invisible.




Directed and adapted for the screen by Richard Glatzer and Wash Westmoreland, Still Alice is one of the most difficult movies to get through and yet one of the most rewarding. As Glatzer himself suffers from a progressive neurological disorder, it often bears listings of a personal nature. The script and direction is understated and the directors' admiration of Yasujir Ozu's Tokyo Story is evident in the film's emotional restraint and similarities in the plot such as the family structure and profession of the lead character. Denis Lenoir, the famous French cinematographer who has worked with renowned names such as Jacques Audiard and Olivier Assayas, is instrumental in visualising Alice's decline. As the movie begins, the visuals bloom and are almost ethereal but become jaded as the plot progresses, keeping in line with the effects of the disease that takes over without warning.

There are few films that explore the pain of losing one's own identity and sense of being, and do so as powerfully, honestly and painfully as Still Alice. It is definitely one of those films that is hard to watch, but even harder to forget.


Published in The Express Tribune, Sunday Magazine, January 18th, 2015.
COMMENTS (1)
Comments are moderated and generally will be posted if they are on-topic and not abusive.
For more information, please see our Comments FAQ