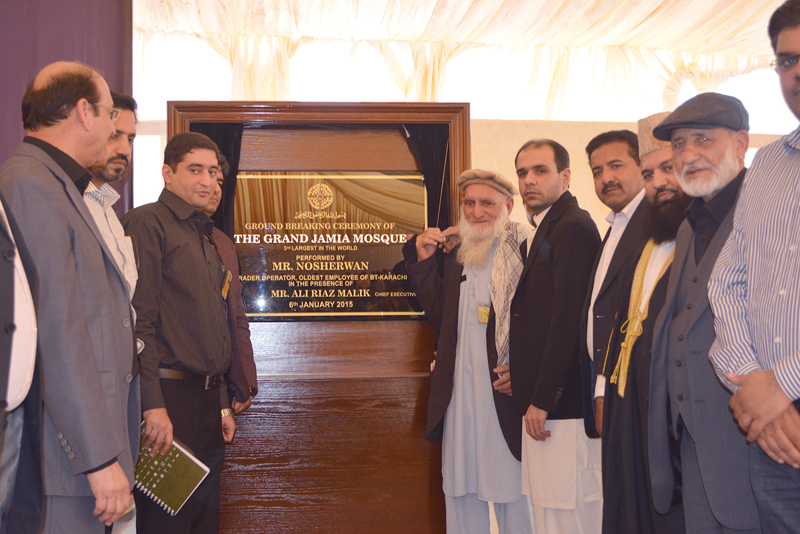 ---
KARACHI:



The ground-breaking ceremony of the world's third largest mosque as claimed by Bahria Town was held here on Tuesday. 




According to a press release, Nosherwan, 73, the oldest employee of the top real estate developer performed the groundbreaking of the mosque which will accommodate hundreds of thousands of worshippers. Nosherwan is a grader operator and his name was engraved on the groundbreaking shovel.

The ceremony was attended by CEO Bahria Town Ali Riaz Malik, VCE Bahria Town Cdre (retd) Ilyas, VCE Bahria Town South Zain Malik, DCE Hamid Ilyas and Director Sales Shahid Qureshi, religious scholars from various sects as well as a large number of people.

Intriguing feature of the mosque is that it will be built on a hilltop 60 feet high, with visibility stretching miles away. Selecting the finest artisans and craftsmen for the construction and having a magnificent display of rich Islamic traditions, the mosque will have a single-monument minaret towering 325 feet. It also includes Islamic University, Islamic Library, Islamic Research Centre and a Museum.

Its design has been inspired purely by Islamic traditions and Islamic architecture stemming from Mughal architecture of Dehli and Agra, Persian mosques of Isfahan, Turkey and Samarkand.

The exterior blocks will be decorated with large sheets of white marble and multiple geometric design patterns while the interior will be embellished with traditional Islamic calligraphy and glazed pottery mosaic in ceramics and tiles and a number of marbles. The chandeliers are being designed using rich elements from Turkey, Iran and Italy.

There will be an outside courtyard inspired by some of the most famous mosques of the sub-continent and will serve as an outdoor praying facility as well as a beautifully landscaped emerald green garden surrounded by arch-shaped walls on all four sides, creating magnificent corridors.

The Grand Jamia Masjid in Bahria Town Lahore is one of the finest specimens of Islamic architecture and proudly holds the title of being the world's 7th largest and Pakistan's largest mosque.

Published in The Express Tribune, January 7th, 2014.
COMMENTS (7)
Comments are moderated and generally will be posted if they are on-topic and not abusive.
For more information, please see our Comments FAQ