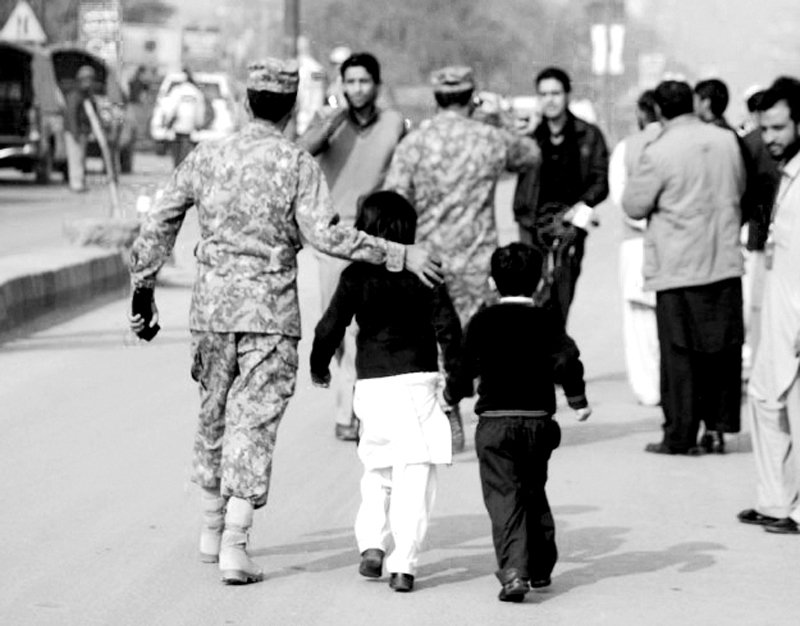 ---
ISLAMABAD:



Approximately 51,000 Pakistanis have died in the fight against terrorism since the country joined the US-led war against terrorism after the 9/11 attacks. The country has seen some of the worst militant violence during this period. Be it Islamabad Marriot bombing, hostage-taking at the GHQ, PNS Mehran attack, Karachi airport assault or Peshawar church blast, it all reinforced the fear that the country was facing an existential threat from homegrown Taliban militants.




But the December 16 bloody Taliban rampage at the Army Public School in Peshawar was the turning point in the country's counter-terrorism campaign as it prompted a strategy review by our civil and military leaderships.




A day after the school massacre, Prime Minister Nawaz Sharif chaired an emergency huddle of political leaders where he declared that from now on there would be no distinction between 'good Taliban' and 'bad Taliban'. It was the first time a Pakistani leader publicly made such a commitment. Similarly, army chief General Raheel Sharif also admitted that "terrorists live among us and they look like us". This made it clear that both civil and military leaderships are on the same page to stamp out militancy once and for all.

In June this year, the Pakistan Army had started an offensive against the Taliban in North Waziristan Agency followed by another operation in parts of Khyber Agency in mid-October. The Waziristan offensive, codenamed Operation Zarb-e-Azb, was started after a government initiative to make peace with the Taliban broke down and militants mounted an audacious attack on the Karachi airport.

Operation Zarb-e-Azb has been dubbed as the decisive battle against a potpourri of militant groups – including Tehreek-e-Taliban Pakistan, Hafiz Gul Bahadur's Shura Mujahideen North Waziristan, Haqqani Network, East Turkestan Islamic Movement and the Islamic Movement of Uzbekistan. US officials had long claimed that the Haqqani Network and its cohorts used North Waziristan as a springboard for launching attacks on foreign forces in Afghanistan.

Six months into the operation, the Pakistani military claimed that they have dismantled the Taliban infrastructure and purged almost the entire agency of militants. Over 1,200 militants have been killed in the operation thus far, though the figures could not be verified independently as the area is inaccessible to journalists. Subsequently, the security forces launched Operation Khyber-I to hunt down militants who had fled Operation Zarb-e-Azb to take shelter with the Mangal Bagh-led Lashkar-e-Islam extremist group in Tirah Valley and Bara.




Apart from the gigantic human losses, Pakistan also suffered colossal economic losses in the US-led war against terrorism. According to economic experts, the country has suffered $80 billion economic losses. Washington released billions of dollars to support the Pakistani military's counter-terrorism operations.

The outgoing year also saw an apparent convergence of counter-terrorism approaches of Pakistan and Afghanistan – the two countries that have long accused each other of harbouring militants. New Afghan President Ashraf Ghani visited Islamabad and promised to join hands with Pakistan to fight Taliban militants. Effective coordination and cooperation between Kabul and Islamabad in 2015 could help the two strife-torn countries to defeat their common enemy.

Published in The Express Tribune, January 1st,  2014.
COMMENTS
Comments are moderated and generally will be posted if they are on-topic and not abusive.
For more information, please see our Comments FAQ