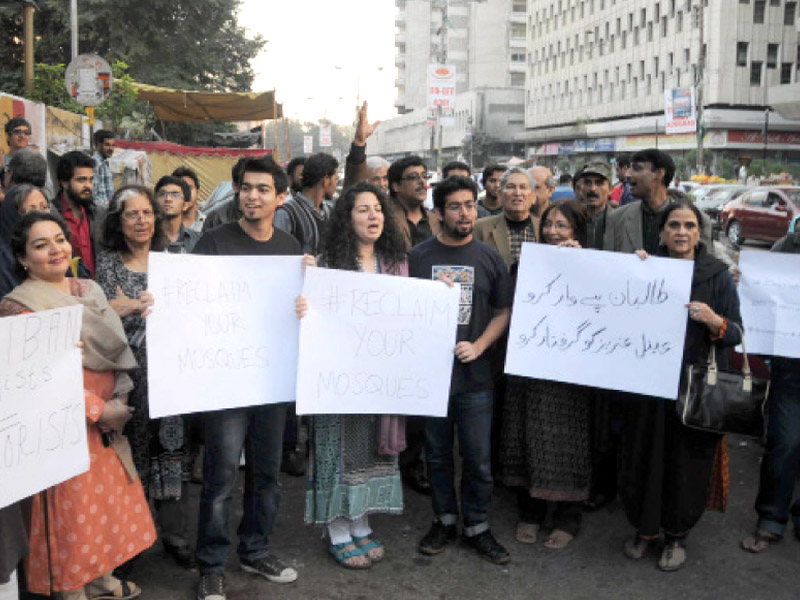 ---
KARACHI:



Members of civil society gathered outside the Karachi Press Club (KPC) on Monday evening as part of the protests being held across the country, expressing their solidarity with the victims of the Peshawar school attack and calling for the arrest of Lal Masjid cleric Maulana Abdul Aziz.




United under the slogan 'Reclaim Your Mosques', the protesters asked the media not to give airtime to militants and their supporters. They also asked members of society to stand up against clerics who give voice to hate speech in their mosques.

"The clerics can go on national television and utter death threats against whoever they please but somehow they're untouchable," Sadaf Mujeeb, an agitated protester, told The Express Tribune. "I only have one demand: that these people are put behind bars."




Although a larger gathering was expected, the turn-out consisted of around 150 protesters who blocked the road in front of the KPC, carrying placards and shouting slogans. The protest began on a tangential note, as the younger members of the crowd raised their voices against the armed forces. However, the elder protesters quickly rallied them back to the cause at hand and they united to demand Aziz's arrest.

Spearheaded by activist Jibran Nasir, the protests against the cleric initially started on Thursday outside the mosque in Islamabad, and continued for a fifth day on Monday in Islamabad, Karachi, Lahore, Sialkot and Sargodha.

An FIR was registered against Aziz at the Aapbara police station in Islamabad on Friday after protesters had gathered outside it demanding the cleric's arrest for supporting the massacre carried out by the Tehreek-e-Taliban Pakistan (TTP) in Peshawar on December 16. The TTP had stormed into an army-run school, killing 148 people, including 132 children.

The Lal Masjid cleric, who openly sympathises with the TTP as well as militant group Islamic State, defended the attack on television as a reaction to the army's Operation Zarb-e-Azb in North Waziristan, creating a public uproar.

Published in The Express Tribune, December 23rd, 2014.