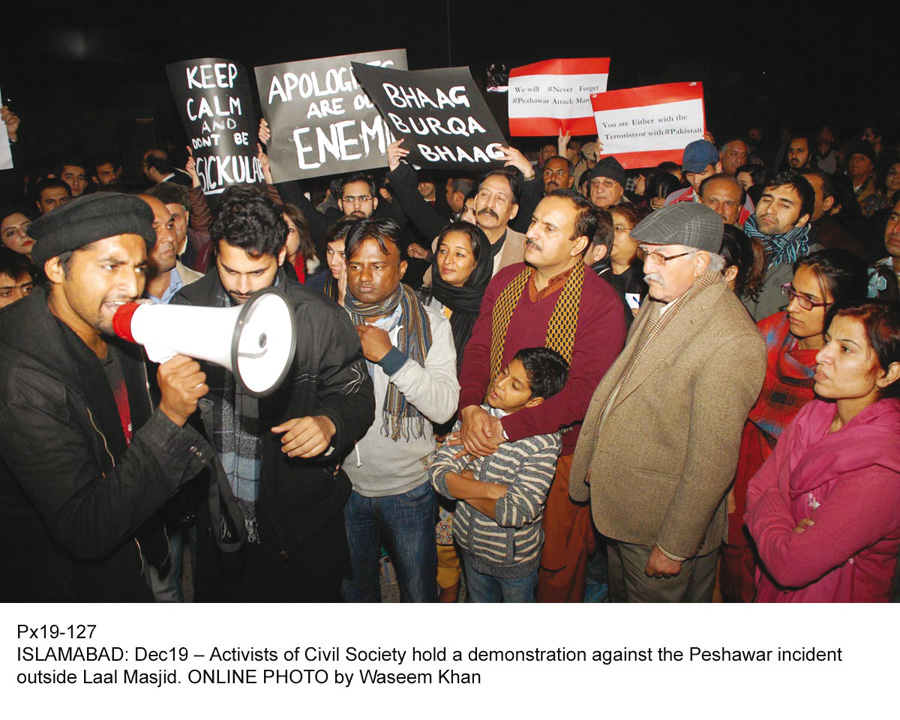 ---
ISLAMABAD: The police have registered a case against the chief cleric of Lal Masjid, Maulana Abdul Aziz, following a protracted protest by civil society members against his controversial statement on Tuesday's massacre of schoolchildren in Peshawar.

The FIR was lodged at the Aabpara police station under Section 506 (2) on the complaint of civil society members.

Earlier, tension gripped the Aabpara area when civil society activists and students of the seminaries affiliated with Lal Masjid came face to face outside the mosque. A heavy contingent of police was deployed at the site to avert any untoward incident.

The seminary students were apparently brought by Lal Masjid administration in response to Thursday's protest by the civil society against Maulana Abdul Aziz. The students staged a protest against the civil society as well as the Peshawar school massacre after Friday prayers.

Addressing the gathering, spokesperson for Ahle Sunnat Wal Jamaat (ASWJ) Maulana Abdul Rehman Moavia said that the Lal Masjid students were gathered to condemn the Peshawar school attack, but at the same time all drone attacks should also be condemned.

"Why the Lal Masjid massacre was not condemned in the same way?" he said, adding that these 'so-called liberals' belonged to paid NGOs. He warned the civil society members against staging a protest outside the mosque.

The police reportedly detained six members of the civil society, who had gathered outside the mosque to speak against the mosque administration at the time of protest by seminary students.

The madrassa students allegedly tried to harass two women, who tried to speak against the chief cleric of Lal Masjid. The women were, however, rescued by the police.

At 5pm, hundreds of civil society members gathered near the mosque to protest against Maulana Abdul Aziz who reportedly refused to condemn the Peshawar massacre. The protesters included rights campaigners, students, teachers, writers and parliamentarians.

The protesters later marched to the Aapara police station where they staged a protest. They said that they would not budge until the cleric was arrested. The police registered an FIR against the chief cleric after holding negotiations with the protesters.

Published in The Express Tribune, December 20th, 2014.