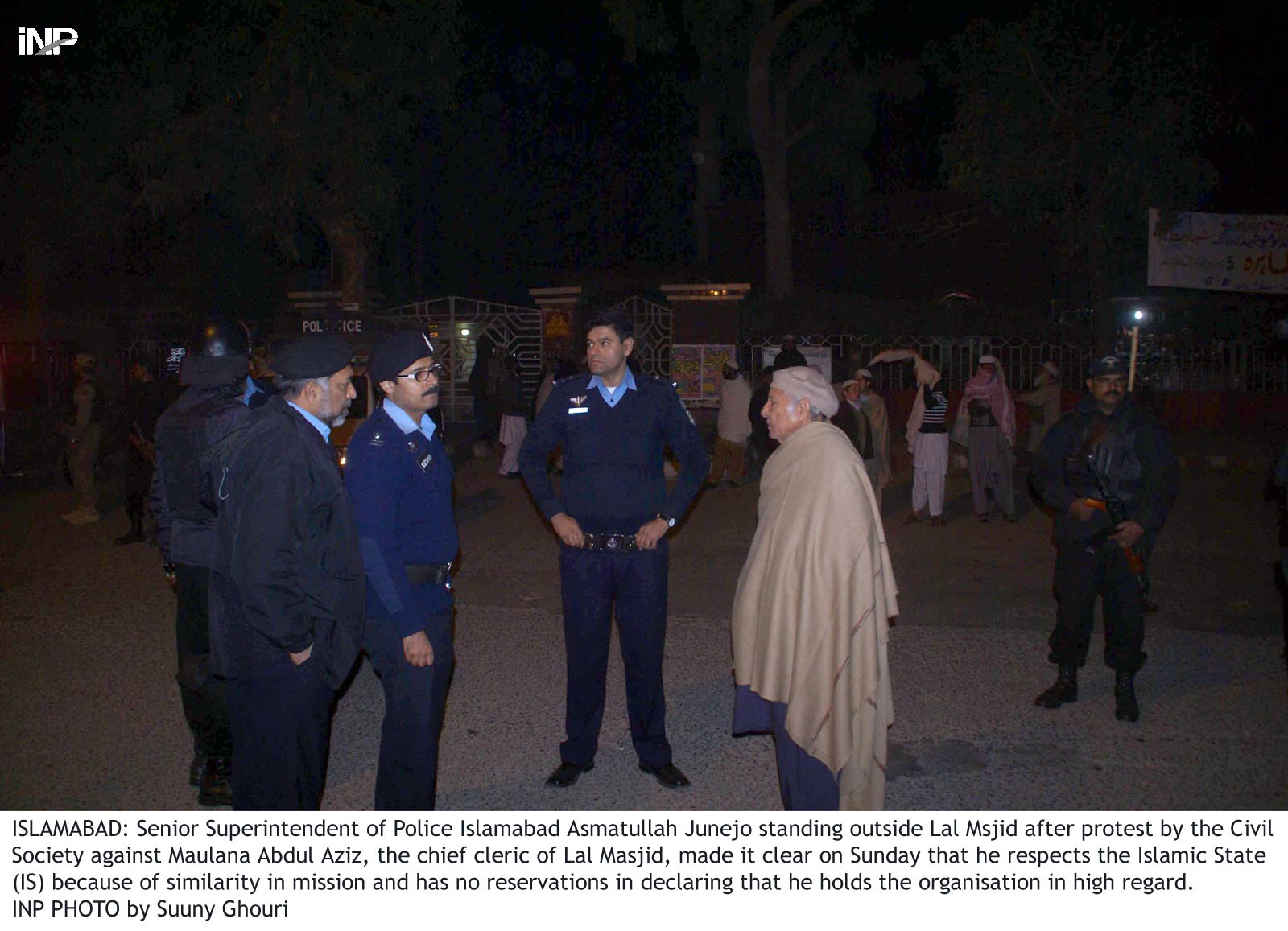 ---
ISLAMABAD: Politicians and rights activists have condemned the police for registration of an FIR against protesters who had gathered outside Lal Masjid on Thursday to denounce a cleric for allegedly being a "terrorist apologists".

The FIR was registered late on Thursday night, with the three charges being disobedience of an order from a public servant, hurting religious feelings, and wrongful restraint. The persons charged include the protest organisers Jibran Nasir and Waqar Kiyani, National Party Punjab President Ayub Malik, civil society activists Naeem Mirza and Shah Zaman, and 100 others unidentified persons for participating in the vigil.

Awami Workers Party (AWP) Chairman Fanoos Gulzar condemned the FIR against political and rights activists and said that peaceful protest was their fundamental right.

Ayub Malik, who is nominated in the FIR, said they had assembled to exercise their right to protest. He said religious extremists were the biggest beneficiaries of prevailing state policies. "By protesting here (in front of the mosque), we directly supported the state and its resolve to fight against fundamentalism, but in response, the state took action against us," Malik said.

Human rights activist Farzana Bari said registration of the FIR showed that the fundamentalist mindset was not only limited to Lal Masjid, but also prevailed in the ranks of security agencies and the state. "The state should stop patronising extremists," Bari demanded.

MQM Senator Tahir Mashhadi said the FIR was tantamount to suppressing progressive voices in society.

National Party President Mir Hasil Bizenjo was of the opinion that the government had conceded to the well-wishers of terrorists by registering an FIR against peaceful citizens.

"This [FIR] is unacceptable and tantamount to discrimination," said PPP Senator Farhatullah Babar. He said he would raise the issue in parliament.

Awami National Party Vice-President Bushra Gohar termed the FIR a barbaric act on behalf of the state. "Instead of protecting peaceful citizens, the state is protecting Taliban supporters," Gohar said.

PPP MNA Nafisa Shah said she would move a call attention notice in the National Assembly over the FIR.

Superintendent of Police (City) Rizwan Gondal said the police registered the FIR to defuse the tension.

Ahle Sunnat Wal Jamaat (ASWJ) Islamabad General Secretary Abdur Rehman Mauvia, who is the complainant in the case, claimed participants of the Thursday gathering openly blamed Lal Masjid chief Abdul Aziz for the Peshawar attack. "We are peaceful citizens," Mauvia said and termed the protesters "liberal extremists whose propaganda against Islam and Muslims would be challenged at every forum".


Civil society activists held a demo outside the mosque again on Friday. Later, they marched on Aabpara Police Station and demanded registration of an FIR against Aziz, but had not been registered till the filing of this report.


Published in The Express Tribune, December 20th, 2014.