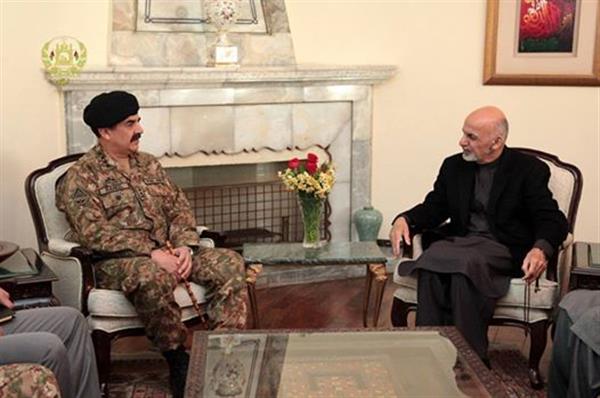 ---
ISLAMABAD: After Tuesday's deadly attack on the school in Peshawar, Army chief General Raheel Sharif on Wednesday made a short trip to Kabul to hold key meetings with Afghan President Ashraf Ghani and ISAF commander in Kabul.

According to Inter Services Public Relations (ISPR), the army chief held separate meetings with the two.

"Matters relating to security situation along Pakistan-Afghan border region came under discussion. Vital elements of intelligence were shared with concerned authorities, with regard to Peshawar incident," the statement said.


Army #Chief lands back at Psr.Essential intelligence shared with Afgn.Common resolve;Terrorists will be eliminated from wherever they go

— Gen(R) Asim Saleem Bajwa (@AsimBajwaISPR) December 17, 2014


Ghani assured General Sharif that Afghan soil will not be allowed for terrorist activities against Pakistan and any signature found in this regard will be immediately eliminated.

The army chief also extended full support to the Afghan president in all spheres, including joint efforts against terrorists.

Separately, the ISAF commander assured the army chief of their complete support in eliminating terrorists in his areas of responsibility.

Earlier in the day it was reported that Army chief would urge Afghan authorities to take decisive action against sanctuaries of the TTP or else Pakistan would go for 'hot pursuit.'

DG ISPR Asim Bajwa tweeting details of the visit said the army chief, who was accompanied by DG ISI, will return to Peshawar after his visit to Kabul.


#COAS in Psr:Left for Kabul on special visit.Accompanied by DG ISI. COAS will meet Afgn President, ISAF Comd, will return to Psr

— Gen(R) Asim Saleem Bajwa (@AsimBajwaISPR) December 17, 2014


A security source told The Express Tribune that Pakistan would want immediate action against TTP hideouts.

"If Afghan authorities fail to act this time, we will explore all options, including hot pursuit," cautioned the source.

Another official, however, hoped that unlike the Karzai administration, the current government in Afghanistan would stop supporting anti-Pakistan elements.

The official disclosed that General Raheel, during his talks in Kabul today, would seek the extradition of Mullah Fazlluah, whose group claimed responsibility of the dastardly attack on Tuesday.
COMMENTS (125)
Comments are moderated and generally will be posted if they are on-topic and not abusive.
For more information, please see our Comments FAQ