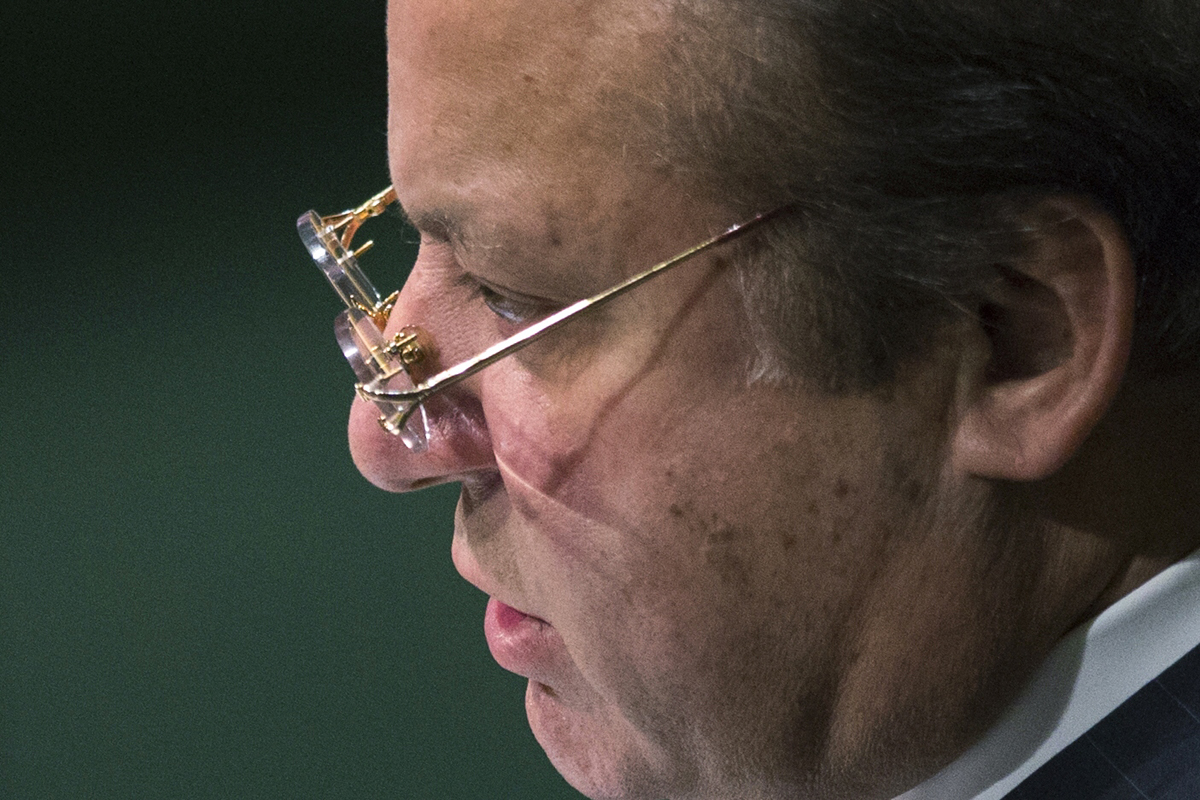 ---
ISLAMABAD:



The Supreme Court's larger bench will take up PTI's plea seeking the disqualification of Prime Minister Nawaz Sharif today.




During the hearing the apex court will also deliberate on what should be the minimum threshold for attracting Articles 62 and 63, which court is competent to convict a parliamentarian and what do the terms "honest" and "ameen" mentioned in the Constitution actually mean.

Seven-judge larger bench of the apex court, headed by Chief Justice Nasirul Mulk will hear four different pleas, filed by PTI leader Ishaq Khan Khakwani, PML-Q chief Chaudhry Shujaat Hussain, Insaaf Lawyers wing's Gohar Nawaz Sindhu and Muhammad Azhar Siddiqui.




The petitioners claimed that the premier had first asked army chief General Raheel Sharif to act as a 'mediator' between the government and protesting parties – PTI and PAT – and to serve as a 'guarantor' to any agreement with the parties.

They alleged that the premier had later lied in front of parliament and denied making any such request to the army chief and should therefore be disqualified in view of Article 63 of the constitution. Irfan Qadir advocate is representing the PTI as well as PML-Q leaders in this case.

The larger bench will also adjudicate the questions raised by a three-judge bench headed by Justice Jawwad S Khawaja in its four-page written order, while hearing senior vice president of the Insaf Lawyers wing's Gohar Nawaz Sindhu's appeal against the Lahore High Court's September 2, 2014, order to reject the writ petition.

The top court office has already issued notices to PTI Vice President Hamid Khan, PPP's Senator Raza Rabbani and senior counsel Khawaja Haris to assist the court as amicus curiae (friends of the court) in this matter.

The bench had  formulated a number of questions for consideration, with an emphasis to lay down a law suggesting what should be the minimum threshold for attracting Articles 62(1 f) and 63(1 g) of the Constitution, requiring a conviction by a court against a member of parliament.

It is important to determine which court is competent to convict a parliamentarian, and what the standard of proof required for making such convictions should be, the bench said.

The court had also suggested, for the consideration of the larger bench, the constitutional provisions of eligibility for elected office requiring an elected person to be "honest" and "ameen" have to be given meaning because these terms have to be interpreted as they constitute a substantive part of the Constitution.

Published in The Express Tribune, December 9th, 2014.
COMMENTS (4)
Comments are moderated and generally will be posted if they are on-topic and not abusive.
For more information, please see our Comments FAQ