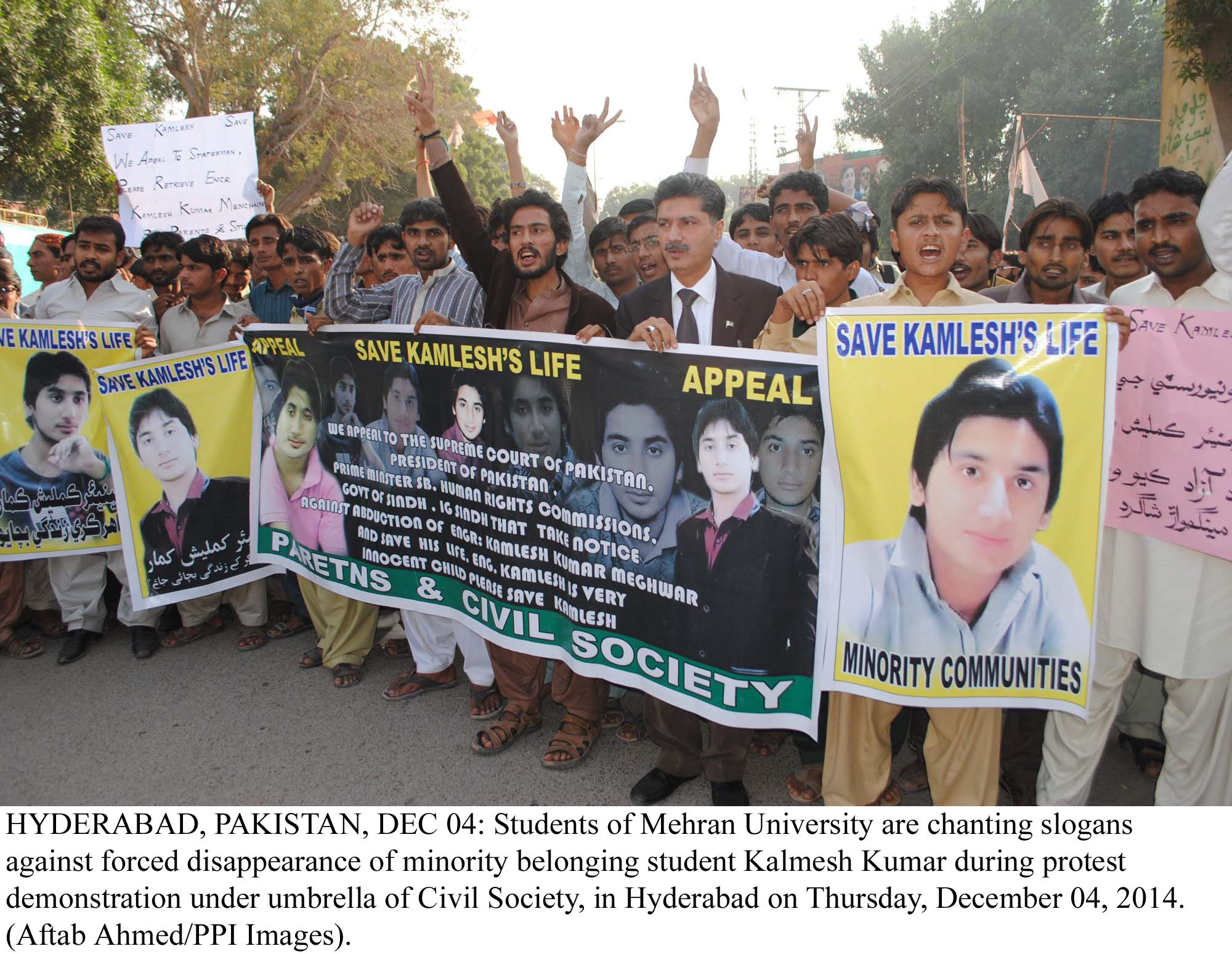 ---
HYDERABAD: The family of a university student who was picked up by men in plainclothes has been trying to find him for more than a week. So far they have not been successful.

Kamlesh Kumar, a third-year environmental engineering student at the Mehran University of Engineering and Technology was whisked away from the Sindh University Housing Society on November 27.

His family claims that the police and some unidentified men picked up Kumar, who is allegedly associated with the banned Jeay Sindh Muttahida Mahaz. His family, however, claims that the young man did not have any affiliations with any group or political party.

The family's fears have heighten as during the last couple of weeks bodies of seven nationalist workers - mostly from the JSMM, were found in different parts of the province.

"My mother is suffering from acute trauma. She often lapses into seizures," said Kumar's younger brother Suneel. "Our family has assured everyone that if Kumar was part of anything, we would make sure that he didn't do anything like it again." He added that the deaths of other nationalist workers had frightened them with regards to what might have happened to his brother.

According to his uncle Raja Daim, they also met with the university's vice-chancellor, Dr Prof Muhammad Aslam Uqaili, to ask for help. He said that they did not get any assurances or help from the varsity.

Protest and demonstrations were held in Tando Muhammad Khan and Tharparkar, where Kumar is from, for his immediate recovery. According to the Human Rights Commission of Pakistan's Dr Ashothama Luhano, at least 12 nationalist workers, who were allegedly subjected to enforced disappearance, are still missing.

Published in The Express Tribune, December 5th, 2014.