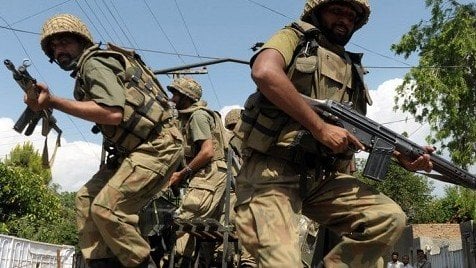 ---
PESHAWAR: A roadside bomb on Tuesday killed 4 Pakistani troops and wounded 14 others in the northwestern tribal belt along the Afghan border, officials said.

"It was a remote-controlled bomb blast," Mir Chaman Khan, a local police officer told AFP by telephone.

A senior military official in Peshawar confirmed the attack saying that the target was a paramilitary convoy travelling to Parachinar, the main town in Kurram tribal district.

A campaign of suicide attacks and bombings blamed on Al-Qaeda, Taliban and other extremist Islamist groups has killed more than 3,200 people in less than 3 years across the nuclear-armed country of 167 million.

Under US pressure, Pakistan has in the past year significantly increased operations against militants in its tribal belt, which became a haven for hundreds of extremists who fled Afghanistan after the 2001 US-led invasion.

At least 24 people including a child and police officials were killed Monday in bombings hours apart at a high school and a crowded market in Peshawar.
COMMENTS (1)
Comments are moderated and generally will be posted if they are on-topic and not abusive.
For more information, please see our Comments FAQ