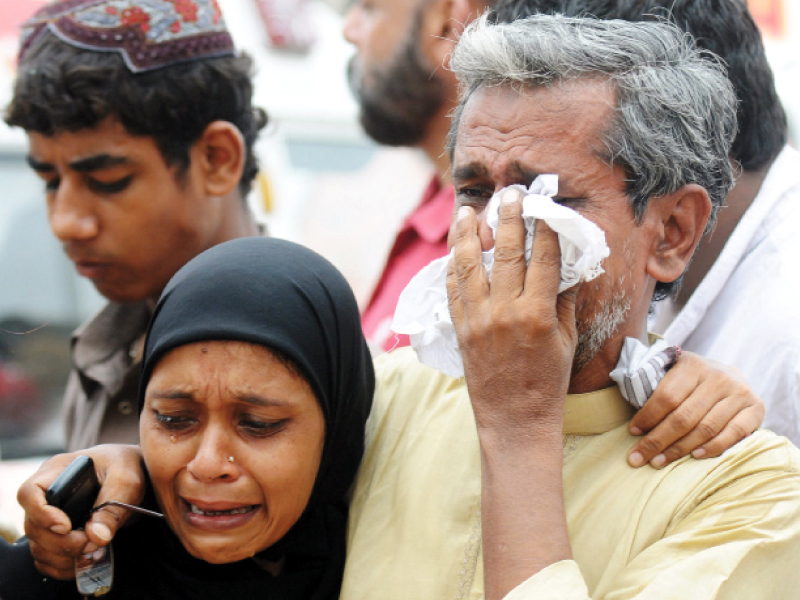 ---
KARACHI:



Marking its second anniversary, the trial of the Baldia factory inferno has yet to kick-start after the lapse of two years - a negation of the national judicial policy, which was meant for the swift dispensation of justice to the masses, lawyers say.




The deadly fire in the garments factory took the lives of 259 workers, some of the victims' bodies still remain unidentified, on September 11, 2012.

The factory owner, Abdul Aziz Bhaila with his two sons - Arshad Bhaila and Shahid Bhaila - general manager Mansoor and some gatekeepers were booked in the case. Later, on the directives of a magistrate, the then managing director of SITE Abdul Rasheed Solangi, the labour department director Zahid Gulzar Shaikh, the additional controller of civil defence Ghulam Akbar and the chief inspector (electrical) Amjad Ali were also named in the case for their alleged negligence.




All of them later obtained bail from the courts. But, the fate of the case still remains undecided.

The case has reached the stage of indictment of the suspects, but the copies of evidence have not been supplied to them as required under Section 265-C of the Criminal Procedure Code (CrPC), said Advocate Salahuddin Panhwar, a lawyer pursuing the case on behalf of the workers welfare organisation.

"Unless the copies are supplied the trial cannot be initiated, but the investigation is deliberately not completing this process which is why the trial has yet to formally start," he said.

The case was fixed before additional district and sessions judge (West) Naushaba Kazi last week for supply of the remaining documents, but it was adjourned till September 27, since the judge was on leave.




Unintentional murder

The investigating officer had twice charge-sheeted the owners and others in interim and final charge-sheets under Sections 302 (premeditated murder), 322 (qatl-bis-sabab) and other sections of the Pakistan Penal Code. But in the supplementary charge-sheet, which he filed afterwards the IO had shown the four officials innocent. The Section 302 of the PPC against other suspects was also removed.

"Under the national judicial policy all criminal cases punishable with imprisonment from seven years and including death cases shall be decided within a period of one year," said advocate Panhwar.

"The trial of the Baldia factory fire is still being conducted under Section 203 of the PPC as the court has not accepted removal of this section, which means the case is to be completed within one year. But, no progress in the case amounts to a violation of the national judicial policy," he added.

Published in The Express Tribune, September 11th, 2014.
COMMENTS (1)
Comments are moderated and generally will be posted if they are on-topic and not abusive.
For more information, please see our Comments FAQ