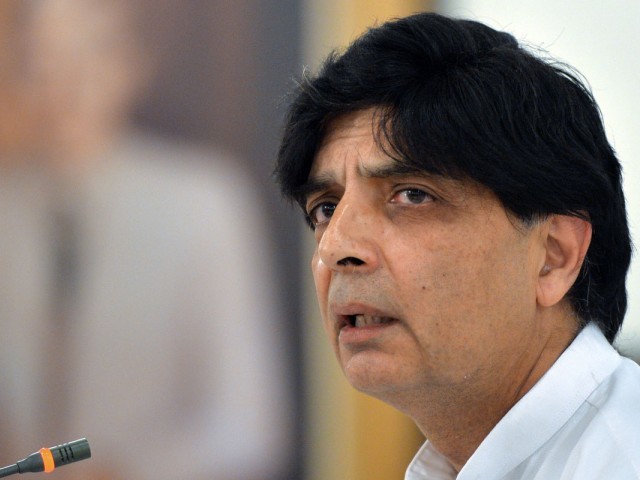 ---
ISLAMABAD: Signalling its readiness to accept even the 'overwhelming' demands of Pakistan Tehreek-e-Insaf (PTI) and Pakistan Awami Tehreek (PAT), the federal government on Friday renewed its invitation to the two parties for meaningful dialogue.

"We are ready to accept their [PTI and PAT's] overwhelming demands," Interior Minister Chaudhry Nisar Ali Khan said at a news conference in Islamabad.

The statement came with a caveat, however. "We are willing to accept all demands, as long as they lie under the government's domain and the ambit of the Constitution."




Talking to reporters, Nisar once again urged PTI Chairman Imran Khan and PAT chief Dr Tahirul Qadri to engage the government in talks. He assured them that guarantors could be brought in to implement any points agreed upon between the government and the protesting parties during a possible dialogue process.

Nisar hinted that the government may acquiesce to PTI and PAT's demand, and remove some of the shipping containers blocking entry and exit routes in Islamabad. However, he said this would mean carrying out enhanced security checks at entry and exit points across the twin cities.

Both PTI and PAT have demanded the removal of containers from the capital and claim these roadblocks, rather than their sit-in protests, are causing inconvenience to the public.

Accusing PTI and PAT of violating their earlier written agreements with the Islamabad Capital Territory administration assuring they would not enter the federal capital's Red Zone, the minister warned the heads of the protesting parties against disrupting law and order.

"Imran Khan and Tahirul Qadri will be held responsible in case of any untoward incident," Nisar said. He added that he would send officials from his ministry to get this assurance from the chiefs of the two parties in writing.

The minister also warned that anyone who tried to force his or her way through security checkpoints and blockaders would be sternly dealt with by security forces.

Nisar once again cautioned PTI and PAT against serious security threats to their rallies. Quoting intelligence reports 'from the highest military quarters', he said two suicide bombers have already entered the capital.

The minister told reporters that he was against letting protesters enter the Red Zone. "Marchers [from PTI and PAT] were only allowed to stage sit-ins on Constitution Avenue because of Prime Minister Nawaz Sharif's intervention," he said.

He denied reports that the Islamabad inspector general (IG) was removed because he declined to obey government orders to stop protesters from entering the Red Zone. "The IG had applied for a leave a long time ago. It was only accepted now," he said.

Nisar also said Premier Nawaz's frequent meetings with his brother, Punjab Chief Minister Shahbaz Sharif, had nothing to do with the current political situation.

'No magnetic ink in future'

During the news conference, Nisar claimed the idea of using magnetic ink in elections had failed and said no such ink would be used in future.

"This whole idea of using magnetic ink was wrong. It has never been used anywhere in any country. It was not used in any elections in Pakistan in the past nor will it be used it in the future."

He claimed the ink only provided a brief window of time to verify thumb impressions. This window had already expired, he said.

Published in The Express Tribune, August 23rd, 2014.
COMMENTS
Comments are moderated and generally will be posted if they are on-topic and not abusive.
For more information, please see our Comments FAQ