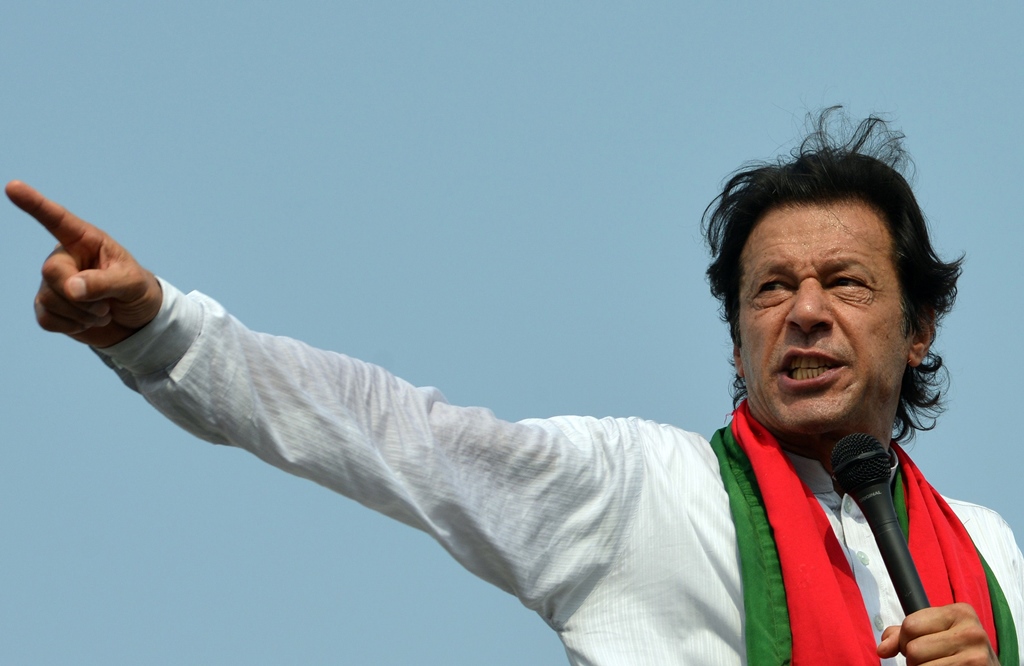 ---
ISLAMABAD:



Thirty out of 34 lawmakers of Pakistan Tehreek-e-Insaf (PTI) handed in their resignations before the office of National Assembly Speaker Sardar Ayaz Sadiq on Friday, sharpening the political confrontation between the ruling Pakistan Muslim League-Nawaz and Imran Khan's party.




Two key allies of Imran Khan who are participating in his Azadi march — Awami Muslim League chief Shaikh Rasheed and independent MNA Jamshed Dasti — have not tendered their resignations so far.

PTI vice chairman Shah Mahmood Qureshi, who was leading the three-member delegation of his party, which included Dr Shireen Mazari and Arif Alvi, told the media that they believe in constitutionalism and want democracy to continue.

PTI members skipped Friday's National Assembly session and after its adjournment approached the speaker's chamber to tender the resignations in line with the party's decision taken four days ago. Ayaz Sadiq's secretary Muhammad Riaz received the resignations on behalf of the speaker, who reportedly left for Lahore after Friday prayers.

PTI parliamentarians in the Punjab Assembly submitted their resignations to party chairman Imran Khan, but not to the speaker as yet. There are 30 PTI MPAs in Punjab, including 24 elected, five on reserved seats for women and one minority. .

Similarly in Sindh, PTI lawmakers have so far not handed over their resignations to the Sindh Assembly speaker yet. However, all four members of the party, including Samar Ali Khan, Khurrum Sher Zaman, Syed Hafeezuddin and Dr Seema Zia, have given their resignations to the party leadership, according to the party spokesperson.




Once the resignations are accepted, PTI would lose representation completely, even from parliamentary bodies, including the 33-member electoral reforms committee that was formed mainly on PTI's demand. The party would also not be able to participate in Senate elections that would be held in March next year. Out of the remaining four, at least two members of the party are still not ready to resign. However, PTI's delegation could not confirm this.

Imran ready to talk

Still holding his ground, Imran Khan expressed his willingness to resolve issues through talks. "We will engage in talks, but we will not compromise on Nawaz Sharif's resignation," he said while addressing the sit-in on Friday.

He also challenged other political parties to lead a march to Peshawar if they believe the elections were rigged in Khyber-Pakhtunkhwa. The PTI chief said he will hold re-elections in the province if parties manage to gather even a fraction of the people that have marched to Islamabad. "You hold re-elections in the rest of Pakistan, I will hold re-elections in K-P," he said, addressing the prime minister.

Imran censured the government for blocking roads leading to the Red Zone, saying these containers and barricades will not deter his supporters. The government has sealed Islamabad with containers, denying the people their right to protest against tyranny, he said.

"Speaking up against oppressors is true jihad. It means fighting for the right of the downtrodden."

He said to his followers, "It is your right to choose your leader, but when this right is denied and the mandate is stolen, you must rise against the rulers. If people keep accepting the diktat of tyrants, what difference would remain between them and tame animals?" Reading from a piece of paper, Imran gave details of various constituencies and the number of votes that were bogus.

Punjab election commissioner Mahboob Anwar, who is in the United States these days, got millions of ballot papers printed from Urdu Bazaar, Lahore, he alleged.

The PTI chief  justified the diction of his rally addresses, saying the rulers deserved it due to their misdeeds. "The incumbent rulers have pushed Pakistan to many crises, which have enraged me."

Published in The Express Tribune, August 23rd, 2014.