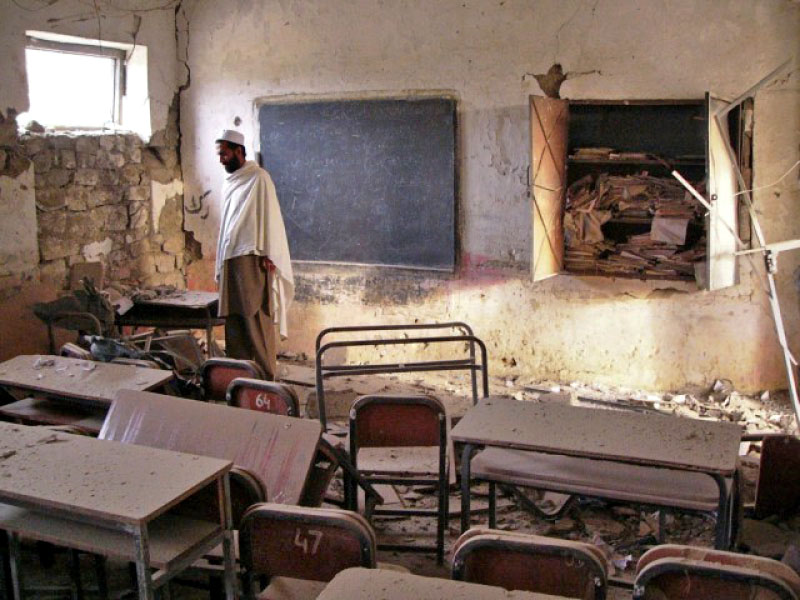 ---
QUETTA: Sitting in a classroom in a private school in Quetta, dressed in a colourfully embroidered Balochi shalwar-kameez, Shahnaz Bibi is struggling to follow her lessons. "I miss my teachers back in Panjgur," the seven-year-old tells The Express Tribune. "They made the lessons easy for us to understand."

Shahnaz, a fourth-grader, travelled to Quetta with her parents and two brothers after the school in her hometown of Panjgur, a western district of Balochistan, was threatened and attacked by the newly established militant group Tanzeemul Furqanul Islam.




In the first week of May, the group distributed pamphlets and letters in schools and markets warning private schools against the perils of co-education and a Westernised curriculum. "Private schools should stop girls' education – both co-education and separate education," warned one letter, adding, "We urge all van and taxi drivers to refrain from taking girls to schools. Otherwise, they will also be targeted."

Realising that their threats alone would not be effective in forcing the schools to close, armed militants from the group attacked the school buildings and torched a school van on May 13. By the end of May all 23 private schools in Panjgur were closed. They remained closed for almost three months.

In the wake of these events, Shahnaz's parents decided to move the family to Quetta to ensure that their children's education could continue uninterrupted.

"Until recently Panjgur was considered the best place in Balochistan for quality education," says Shahnaz's father, 38-year-old Manzoor Ahmed. "Now fear has taken hold. Staying there would put lives at risk and I cannot do that."

Manzoor is not alone in this battle to provide better education to his children. Following the threats and attacks hundreds have migrated from Panjgur to other cities. "I have given certificates to 125 parents who have gone to Karachi, Quetta and other parts of Balochistan," reports Major Hussain, principal of Oasis High School and a representative of Panjgur Private School Association. "There are 23 private schools and English language centres here. Each has lost more than 100 students."

The private schools in Panjgur reopened on August 7 after being closed for three months. But still, attendance has been less than 40 per cent in the schools. "There are a total of 1,025 students enrolled in my school but fewer than 400 turned up this week," said Major Hussain.

The local administration has assigned a police constable to each school but school administrators are not reassured. "Yes, the government has promised us security," says Hussain.

Adding to the problems faced by the schools, several school van drivers have also refused to return to their jobs. "Many parents now bring their children to school themselves by motorcycle," says Hussain. Asked whether the armed group has issued more threats against the schools recently, his response is: "The group sends us daily messages warning us that we will not be spared."

According to locals, the messages were traced and the location of the group is known to everyone. "There is a town in Panjgur where people see suspicious activities," a teacher said on the condition of anonymity. The group is not religious and nothing to do with Western education, said another teacher.

Home Secretary Akbar Durrani said the chief minister and provincial leadership went to Panjgur and ensured complete security to schools. "The administration has been directed to take stern action against such elements," he said. While private schools were targeted, state-run schools have remained unharmed. "The government schools are functional and now the enrolment here has increased two-fold," local teachers said.

Panjgur is not an isolated case - hundreds of families have migrated from Makuran division due to the deteriorating law and order situation. "The language centres in Turbat were also closed," said a teacher of Athah Shah Degree College. But teachers here persist. As Major Hussain says, "If we surrender, future generations will never forgive us."

Published in The Express Tribune, August 22nd, 2014.

 
COMMENTS (3)
Comments are moderated and generally will be posted if they are on-topic and not abusive.
For more information, please see our Comments FAQ