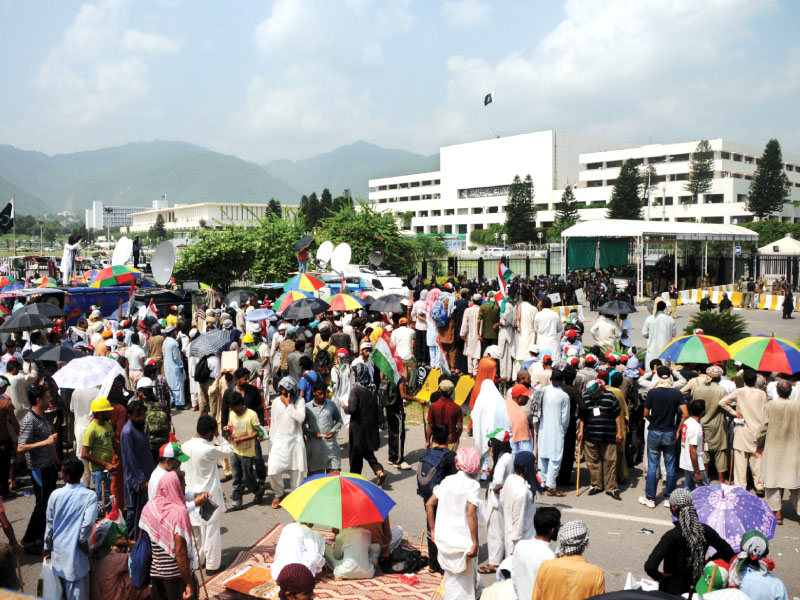 ---
ISLAMABAD:



The workers of Pakistan Awami Tehreek (PAT) on Wednesday literally blocked the entry and exit gates to Parliament House after the PAT chief Dr Tahirul Qadri ordered them to block entry to the building.




"Stage a sit-in and block all the roads leading to the Parliament, so that nobody can get in or out," said Dr Qadri in a speech, delivered in the morning.

After the speech, hundreds of PAT workers gathered around the Parliament in the afternoon and chanted slogans against the parliamentarians, who were leaving the building after the session was adjourned. The PAT members shouted anti-government slogans. Many of them also started stopping vehicles and inquiring about the persons inside. They also started to block entry-exit points to Cabinet Secretariat and Pak Secretariat.

The workers, holding canes and party flags, also scattered around Federal Board of Revenue and Pakistan Television Headquarters.

Soon the gate was banged shut and security officials were deployed in and outside the Parliament. Hundreds of female PAT workers also spread mats on the road and blocked it. In the meanwhile, the administration opted for the alternative route and directed the parliamentarians to use the Presidency's exit gate to avoid any untoward scenario.

Meanwhile, hundreds of protesters also reached the Cabinet Division's main gate next to President House and blocked it. Here army took positions and locked the gate.

Sagheer Ahmed has come with Dr Qadri from Lahore and is committed to 'change' the system. He was chanting slogans against the government and the prime minister. "Only common [people] can break the status quo," he remarked.

Around 4pm PAT workers reached the Pak Secretariat and started checking the vehicles. The building has government offices and several ministries including Ministry of Interior and Ministry of Finance.

The army also cordoned off the main entrance of the Pak Secretariat after all the staff left. Later containers were put on the entry point and PAT workers were pushed back.

Late in the evening all the entry points to the Constitution Avenue were again blocked with the containers that were removed by protesters late on Tuesday night.

Only people on foot were allowed to enter the marching area. Later, despite an appeal by Dr Qadri the workers did not move from the entry points of the several gates around Parliament House.

An official of the Ministry of Housing and Works told The Express Tribune that more than half of the workers in their building and other offices were absent as they could not reach due to several barricades and obstructions.

Similarly thin attendance was witnessed in Ministry of Education, CADD, Ministry of Planning and Development and other buildings of Pak Secretariat.

Published in The Express Tribune, August 21st, 2014.