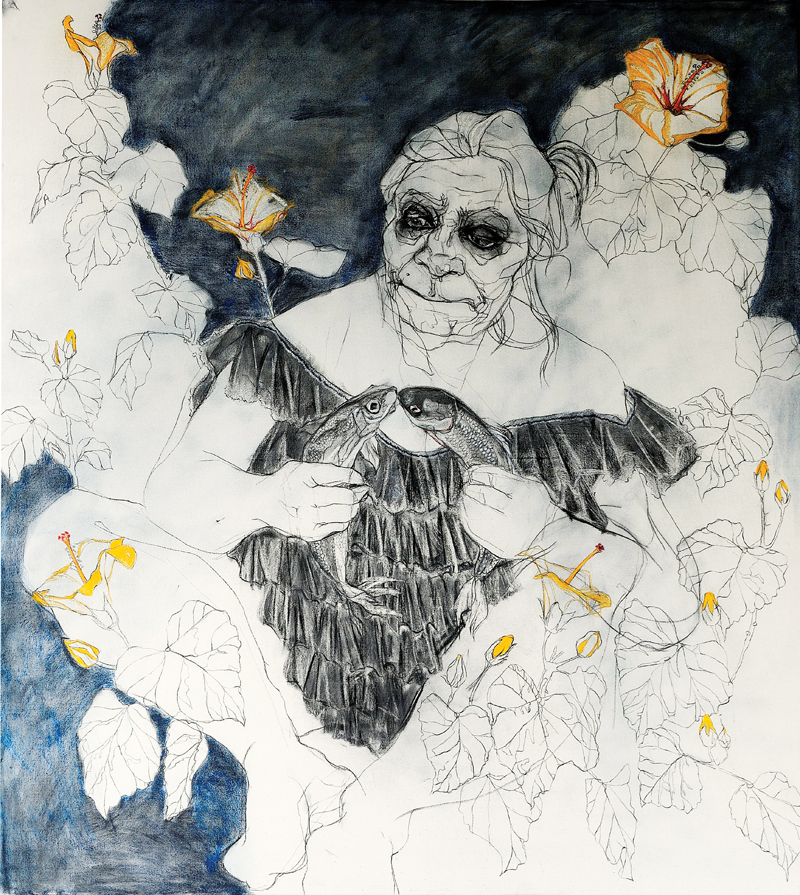 ---
LAHORE:



Artist Maria Khan's latest work explores the depths of a woman's mind. She recently made three portraits of women using charcoal and coloured pastels on canvas.




Speaking to The Express Tribune, Khan, says, "My work revolves around deformity - showcasing larger-than-life, monstrous characters, mature women who sit comfortably in their corpulent flesh and fancy clothes. A childlike ribbon, roses, shrubs, berries and birds…something is delightfully wrong about them."

Khan says that her work is about a woman's inner nature. "It visualises the more disturbing aspects of the self, which were normally kept away from public scrutiny. I see my work as intensely personal and informed by my immediate surroundings. I believe we all have stories and secrets that we want to share. Art is my medium to share those stories," says Khan.

She says her portraits of women veer into the realm of the grotesque. "Contour lines around the faces exaggerate wrinkles, whereas the eyes are darkly-rimmed with charcoal to make them look sooty," she says.

"These paintings are by no means seductive, but are emotionally-charged. In one, the female figure turns to look at the viewer and in another she seems to be lying back with her clothes nearly falling off her," says Khan

She says black dominates the canvas, but colour is introduced through berries and flowers in the background. "However, the flowers and fruits, which often symbolise fertility, youth and beauty in art, only emphasise the inevitable ageing of the female figures here," she says.


Khan, born in 1986, lives and works in Lahore. Currently, she is a lecturer at Punjab University, College of Art and Design. She did her MA (Hons) in visual arts from the National College of Arts, Lahore, with a distinction in studio practice in 2011. She won the best young artist award of the Punjab Arts Council in 2010 and 2012. She has exhibited her work in several group shows in Pakistan.


Published in The Express Tribune, August 21st, 2014.
COMMENTS
Comments are moderated and generally will be posted if they are on-topic and not abusive.
For more information, please see our Comments FAQ