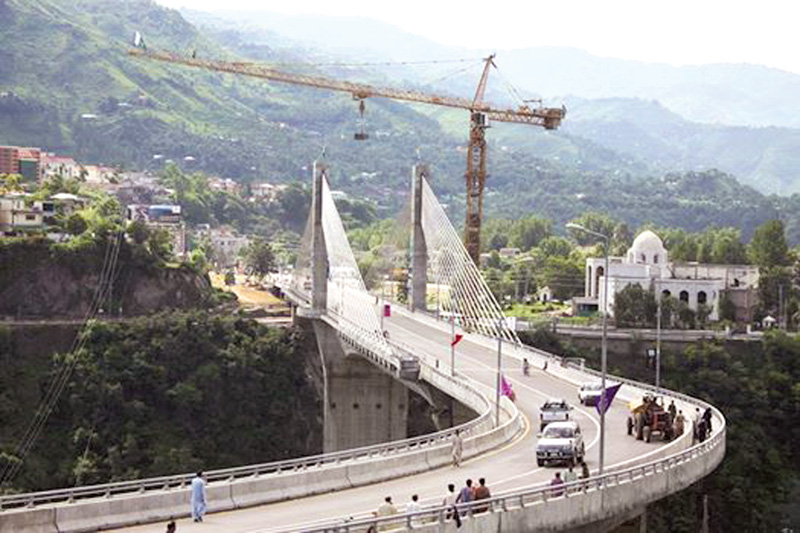 ---
MUZAFFARABAD: The much awaited Earthquake Memorial Bridge connecting Naluchi and Chattar on the banks of River Jhelum was opened for traffic on Tuesday.

The project, funded by the Japan Bank of International Cooperation (JBIC), was completed in just over four year at a cost of Rs1.5billion.

The bridge is 60 metres above the river and 246 metre long. The cable-stayed extradosed bridge was designed by the Japan International Cooperation Agency.

The opening of the bridge will help ease traffic pressure on main roads in the state capital, particularly during the peak hours.

Work on the project was started in May 2009 and was supposed to be completed in 2012, but it hit many snags including paucity of funds, delaying completion.

"The bridge is a blessing for the people of Muzaffarabad. Now we can get around the city faster. This bridge has reduced traffic from Chattar to Gilani Chowk, the commercial hub of the city, by 50 per cent," said Tariq Butt, a government employee.

The bridge has 15-metre sidewalks on either side.

"The bridge will help minimise traffic congestion in the city and providing easy access to commuters travelling to and from the city, said Reyaz Ahmad, a commuter.

The opening of the bridge came as a great relief to the people of Chattar and Civil Secretariat areas who had to endure hour-long traffic jams on a daily basis while travelling to and from the city and the rest of the country.

"This bridge has unique features and surely it adds to the beauty of the capital. The government is proud of it that we have constructed the highest bridge of the country," said Azad Jammu and Kashmir Minister for Rehabilitation Abdul Majid Khan while talking to The Express Tribune.

Meanwhile, Opposition leader in the Azad Kashmir Legislative Assembly and Pakistan Muslim League-Nawaz AJK Chairman Raja Farooq Haider Khan has said that they will resist efforts by the PPP-led AJK government to name the bridge after Zulfikar Ali Bhutto. "We have other projects that can be named after our national leaders. The bridge should be called the Earthquake Memorial Bridge or Pakistan-Japan Friendship Bridge as Japan has provided the funds for the project," he said.

Published in The Express Tribune, August 21st, 2014.