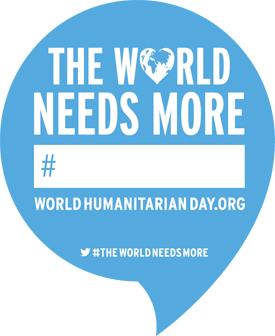 ---
LAHORE:



Civil society activists in the city marked the World Humanitarian Day on Tuesday. The day is observed on August 19 to celebrate the spirit that inspires humanitarian work around the world. The theme of the day this year was "The world needs more."




Mobeen Chughtai, a political economist, said it was ironic that while the World Humanitarian Day was being marked around the world, some Pakistani humanitarians had stopped practicing what they had preached.

Speaking to The Express Tribune, Chughtai said a "hero" was leading his followers to disaster in the federal capital. He said, "This year's theme should have been the world needs less."

World Humanitarian Day is celebrated to commemorate the sacrifices of those who serve humanity with fortitude. World Humanitarian Day is celebrated under the auspices of the United Nations (UN) and coincides with the day the UN headquarters in Baghdad were attacked. Chughtai said people around the world needed to introspect. He said the world needs less aggression, less hostility and less hatred for clarity to prevail. Chughtai said the world needs to be rid of self-serving leaders who had used the public to serve their ends.

Shahram Azhar, a political economist, said the people of the developing world should recognise the various challenges that had made it impossible for them to overcome the challenges facing them. He said they would realise that the capitalist system with its fixation with profits was responsible for their backwardness.

Syed Abu Bakr, an activist, said every country should resolve to increase humanitarian efforts on this day. He said every state had the moral obligation to intervene on behalf of the people of Gaza to put an end to the 'genocide being witnessed there.' He said some Pakistanis like Abdul Sattar Edhi had contributed to humanitarian efforts internationally. Bakr said their efforts must be acknowledged.

Ali Imran, a human rights activist, said while the world was marking the World Humanitarian Day, some Pakistanis were busy creating more humanitarian crises. He said the state's response to calamities had always been limited to humanitarian relief. Imran said the state had ignored other aspects of humanitarian intervention such as rehabilitation of victims. He said the performance of the disaster management authorities was unsatisfactory. Imran said even in cases of humanitarian crises, they tended to follow the lead of international and local relief organisations.

Omar Butt, an analyst, said that people should devote their energies towards making the world safer on the occasion. He said people should strive to put an end to religious, racial and ethnic discrimination.

Civil Society Association of Pakistan chairperson Beenish Toor said the world had become a victim of circumstances. She said compassion was a necessity and not a luxury. Toor said she could not understand why people spewed venom in the name of religion. She said a preacher spreading fear and hatred in the name of God was a threat to humanity.

Published in The Express Tribune, August 20th,2014.