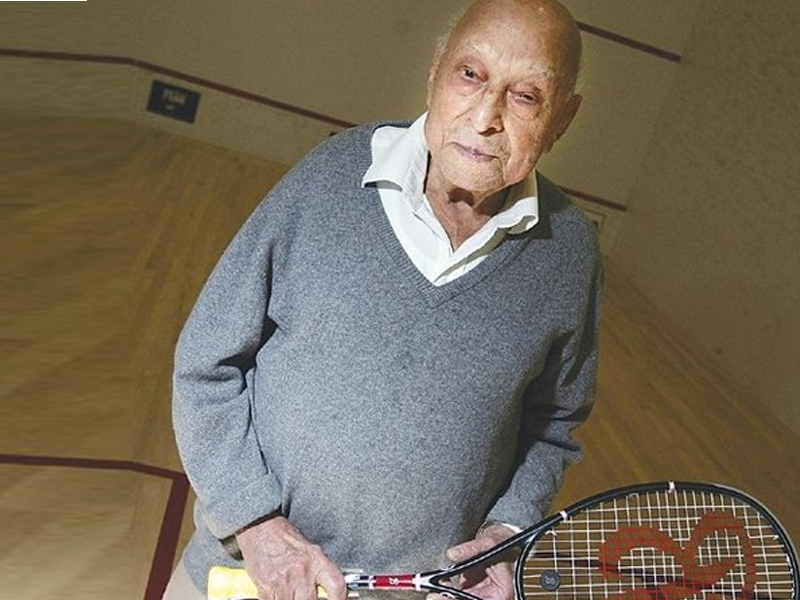 ---
KARACHI: Pakistan Tuesday mourned its first-ever world champion in any sport, squash star Hashim Khan who died in the United States, as former players paid tribute to an all-time great.

Khan, who won the sport's premier title the British Open seven times between 1951 and 1958, was aged 100 at the time of his death in Denver on Monday.

Another squash legend, Jahangir Khan, said Khan had put Pakistan on the sporting map.

"Khan was a great player and whatever Pakistan have won in squash was initiated by him," Jahangir, himself a world record 10-times British Open champion, told AFP.

"Barely three years after Pakistan's independence in 1947, he became our first-ever sporting hero in 1951 and whatever tribute we can pay will not match his great contribution in inspiring a whole generation," said Jahangir, who also won six world open crowns.

Hashim Khan, born in what was then British-ruled India in 1914, made his mark as a ball boy for British air force officers when they played squash.

Khan surprised everyone by winning the All-India Squash Championship in 1944, before partition, and went on to win the first of his seven British titles in 1951.

"To win seven titles at that time with few facilities in the nascent nation was remarkable," said Jahangir, whose father Roshan beat Khan in the 1957 British open final.

Khan won his last British title in 1958 and also won three US and as many Canadian titles.

His success inspired a generation of players in his remote home village of Nawa-e-Kali, near the northwestern city of Peshawar, to emulate his feats.

Jahangir and his contemporary Jansher Khan also hail from the same village.

Jansher won the British title six times and the world open a record eight times.

"He (Khan) started the Khan family tradition in the sport and was always kind to guide the youngsters," said Jahangir, also a former president of World Squash Federation.

Hashim, Jahangir and Jansher were all distantly related.

Another former British open winner Qamar Zaman said Khan was a true champion.

"Pakistan owes him a great deal as he was the father of squash in Pakistan," said Zaman, who won his only British title in 1975.

"We spent a lot of time together and whatever I have achieved in the sport was through his guidance. He had great stamina and love for the game."

After years of world domination Pakistan lost its way in squash in recent years and now has no player in the top 10 global rankings.

PM, President offer condolences

Prime Minister Nawaz Sharif and President Mamnoon Hussain on Tuesday expressed grief and extended their condolences to the family of squash legend Hashim Khan.

In his condolence message, the president appreciated the contributions of Hashim Khan for the promotion of Squash.
COMMENTS (8)
Comments are moderated and generally will be posted if they are on-topic and not abusive.
For more information, please see our Comments FAQ