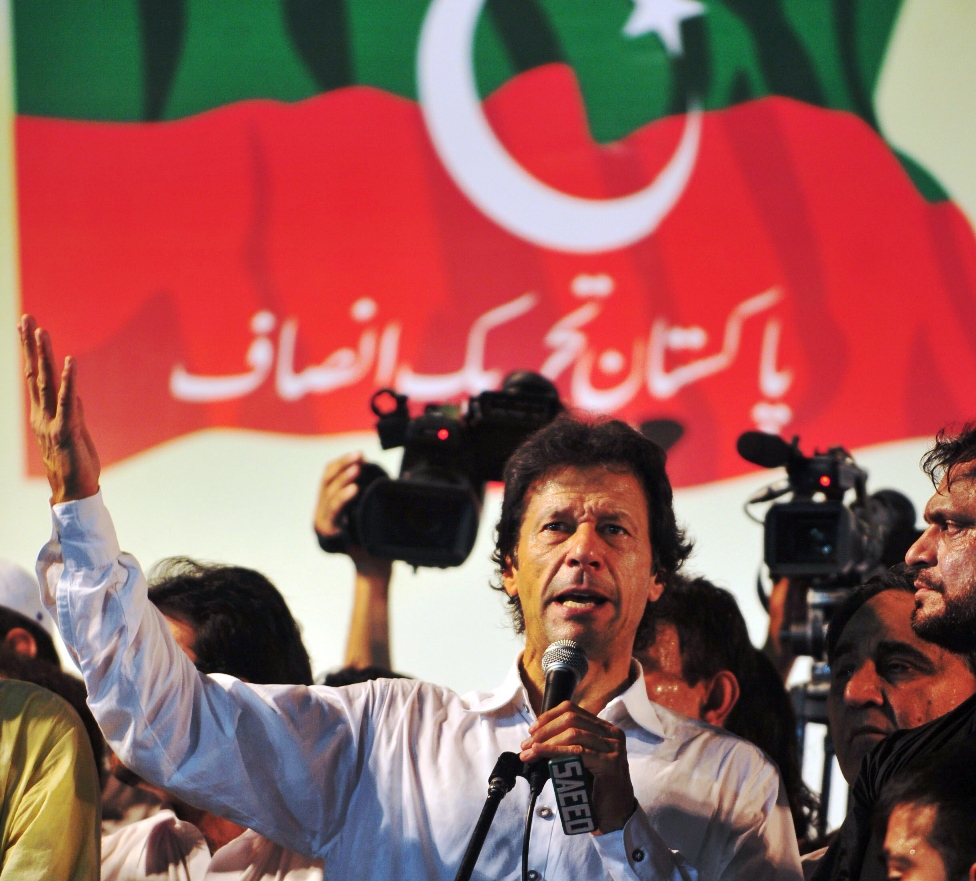 ---
ISLAMABAD: Opposition parties distanced themselves Monday from Imran Khan's call for mass civil disobedience to unseat the government, as talks began to try to end a destabilising five-day political standoff.
Khan, the former cricket star who leads the Pakistan Tehreek-e-Insaaf (PTI) party, led thousands of supporters from the eastern city of Lahore to rally in Islamabad to demand the government resign.
On Sunday he appealed to the people to stop paying utility bills and taxes to the current government, accusing Prime Minister Nawaz Sharif of plundering the national wealth to enrich his business empire.
Khan and populist cleric Tahirul Qadri, who led his own "long march" from Lahore, claim the May 2013 general election which Sharif won in a landslide was rigged.
They had promised to mobilise hundreds of thousands of supporters to capitalise on popular dissatisfaction with the corruption, power cuts and insecurity that blight daily life in Pakistan and oust the government.
But Khan was left looking increasingly isolated on Monday as mass support failed to materialise and other opposition parties refused to rally to his call.
Former president Asif Ali Zardari, co-chairman of the Pakistan People's Party which is the largest opposition party -- said Khan's willingness to use "unconstitutional means" to pursue his goals threatened democracy.
"Democracy and nation will not be served by calls for civil disobedience nor by a stubborn refusal by any side to engage in a meaningful dialogue on political issues," Zardari said in a statement.
In response to the protests, the authorities have deployed tens of thousands of security personnel on the streets of the capital and blocked main roads with shipping containers, causing major disruption.
Sirajul Haq, head of the religious political party Jamaat-e-Islami, who has played a key mediating role since the two protest marches began on Thursday, urged a negotiated end to the standoff.
"We are against any move which can derail democracy. We want to resolve all the matters within the framework of law and constitution," he told AFP.
International observers rated the general election, in which Khan's PTI came third in its best ever performance, as free and credible.
Sharif's Pakistan Muslim League-N has accused Khan of trying to derail Pakistan's perennially fragile democratic system.
The nuclear-armed country has experienced three military coups and the latest crisis has triggered more speculation about possible intervention by the powerful armed forces.
But sources said back-channel talks to resolve the row were under way on Monday and the government said it would soon announce cross-party committees to hold formal talks with PTI and Qadri.
Qadri, a dual national Pakistani-Canadian, has called for Sharif's arrest over what he alleges was the murder of his supporters, and for the installation of an interim national government.
The cleric, who late Saturday issued a 48-hour ultimatum to the government to accept his demands, said he would not be responsible for any repercussions if they were not met.
Ten workers of Qadri's Pakistan Awami Tehreek movement were killed in clashes with police at his headquarters in Lahore on June 17. A judicial commission was formed to investigate.
COMMENTS (5)
Comments are moderated and generally will be posted if they are on-topic and not abusive.
For more information, please see our Comments FAQ