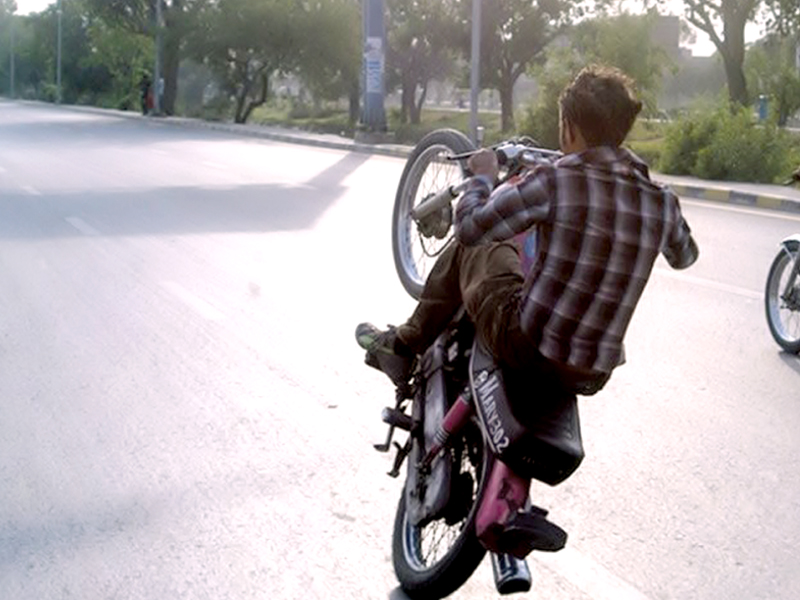 ---
ISLAMABAD:



As the Pakistan Tehreek-i-Insaf (PTI) and Pakistan Awami Tehreek (PAT) rallies continued in Aabpara, local bikers enjoyed wheeling on the capital's roads on Saturday.




With law-enforcers engaged with the rallies teenagers took full advantage of the relaxation as police officials were absent from the city's major roads.

They enjoyed one-wheeling and riding without silencers, and that too without wearing helmets.

Some law-enforcers witnessing the law breakers appeared helpless when youngsters violated the law right in front of them.

"In a normal situation, no one dares to ride a motorcycle without a helmet in the capital," said Siddique Akber, a traffic warden. "We didn't stop anyone because we just wanted to avoid any clash with the rally participants."

Meanwhile, a number of bikers confessed they were 'facilitated' in terms of fuel and food for participating in the rallies. Noman, who rode his motorcycle along with three friends, said they will remain in the rally as long as they are provided fuel. "We have nothing to do with the revolution. We are here for enjoyment."

"We can't imagine riding without a helmet under normal circumstances," said Haroon, an intermediate student. "It's different for the time being however," he said.

Published in The Express Tribune, August 17th, 2014.
COMMENTS
Comments are moderated and generally will be posted if they are on-topic and not abusive.
For more information, please see our Comments FAQ