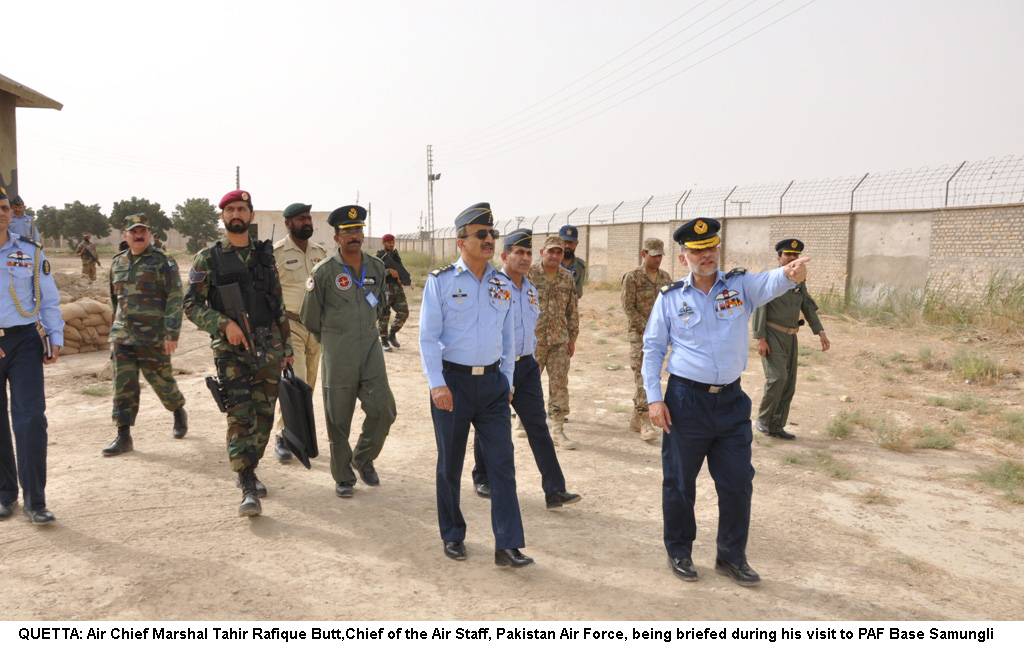 ---
QUETTA: Following the attack on Pakistan Air Force's Samungli airbase and Khalid military airbase, both in Quetta, late on Thursday, Chief of Army Staff (COAS) General Raheel Sharif said, "Eleven militants involved in the attack have been killed, while three other suspects have been arrested," Express News reported quoting ISPR.

Further, he appreciated the efforts of the forces in rendering the attack at the airbase in Quetta last night unsuccessful.

He said that after the launch of Operation Zarb-e-Azb, militants are attempting to flee the country.

"The militants cannot hide anywhere," the COAS said.

The COAS said that security forces should continue to remain vigilant and respond promptly as they have during the attack in Quetta to defeat militants.


#ZarbeAzb:Qta;terrorists on run,making desperate attempts to damage Pak.Their attempts wont bear fruit,they won't find space to hide,COAS-1

— Gen(R) Asim Saleem Bajwa (@AsimBajwaISPR) August 15, 2014
#ZarbeAzb:With backing of nation,we'll eliminate scourge of terror from our soil for ever.Force to remain vigilant to respond as Qta-COAS-2

— Gen(R) Asim Saleem Bajwa (@AsimBajwaISPR) August 15, 2014


The gunmen were armed with automatic weapons, grenades and were wearing suicide vests.

Security heads in Balochistan said that the modus operandi was the same as that of the Karachi airport attack, Miran Airbase and Peshawar terror attacks. The gunfight started at 8:00pm on Thursday and the areas were cleared by 7:00am on Friday.

Sarfaraz Bugti, the home minister of Balochistan, said that militants had tried to storm the Samungli airbase, used by Pakistan's Air Force, and Khalid military airbase, but had failed to penetrate either perimeter.

Two different factions of Tehreek-e-Taliban Pakistan (TTP) claimed responsibility for the attacks and said they were a response to the military's ongoing assault on militant hideouts in North Waziristan tribal area.

The Fidaeen-i-Islam group initially claimed responsibility in a phone call to AFP from commander Ghalib Mehsud.

"The attacks were in revenge to military operation launched against us in North Waziristan," Mehsud said.

"We will launch more and bigger attacks on government and military installations."

Later Azam Tariq, chief of TTP's South Waziristan chapter and a former chief spokesman for the umbrella group, also claimed responsibility.
Lieutenant General Naseer Janjua, the top army commander in the region, told reporters 12 attackers were killed, raising the overnight death toll of nine.

Reporters were shown nine corpses and pieces of three bodies of attackers along with the weapons and explosives recovered during the search operation after the attackers were killed or blew themselves up.
At least 11 security personnel were wounded, Janjua said.

Janjua told reporters at Khalid airbase that the terrorists were kept outside the outer wall of the airbase.

"They were in two groups. Six militants attacked Samungli airbase and another six Khalid airbase," he added.

He allowed media to see the rocket launchers, rocket propelled grenades, automatic weapons, hand grenades and suicide vests. The barbed wires were cut by militants who tried to penetrate the bases.

"Army and government received information about possible attacks on the airbases before they were carried out. All the assets are, however, safe," Janjua stated.

The injured include seven army soldiers, two police personnel, an ATF solider and an FC official. "There was intense firing followed with huge explosions til morning," said Masoom Ali, a resident of Killi Khezi said.

The bases are located in highly guarded areas with huge deployment of army personnel, security forces as well as police personnel where civilians and media are not allowed.

"It is good that terrorists could not succeed in damaging valuable national assets," Janjua said, who monitored the operation, adding that all the attackers were killed.

"Police, Balochistan Levies, FC, Balochistan Constabulary and Pakistan Army showed classic example of coordination during the operation," Janjua told the reporters.

He urged the people to cooperate with security forces in this critical situation of the country.

Chief Minister Balochistan Dr Malik Baloch, who was also present at the Khalid airbase, said attacks were expected and therefore, security forces were prepared.

"I have never heard such continuous and intense firing during the last two years in Quetta," said the provincial chief minister, quoting an army officer.

Baloch announced Rs2 million each for the injured security personnel.

"We should appreciate the security forces who manage to foil the attacks," he told the reporters.

IGP Balochistan Mohammed Amlish told media that the attacks could have resulted in loss of life and great damage to national assets, if the security forces had not responded quickly.

"Security was already put on high alert," he added.

Lt General Janjua said the people of Balochistan are cooperating with the security forces which is commendable. "It is first time that security forces were informed by local people," he stated.

Responding to question, he remarked that it could be a reaction of the military operation in North Waziristan. "The incident is being investigated and we are in contact with the army chief," he said.

A senior military official had earlier said that rockets were fired at Samungli airbase, with two landing inside the perimeter fence. He had added that no damage was caused.

Quetta city's police chief Abdul Razzaq Cheema told AFP that militants first launched an attack on Samungli airbase before targeting Khalid military airbase around an hour later. Police had defused four bombs near the outer wall of Khalid airbase, he said.

Earlier, Airport police SHO Athar Rasheed said that between five to six militants were hiding in a storm drain around half a kilometer from the airport in Killi Khezi area from where they had fired around 10 rockets. The militants were being surrounded by security officials.

"Security forces from airbase opened fire after they spotted the armed men and their suspicious movement around half kilometer from the base," Rasheed said. He added of the rockets fired by the militants, some exploded near Samungli airbase.

In retaliation, the Anti-Terrorism Force (ATF) and Frontier Corps (FC) was mobilised, which tried to cordon off the attackers. During this process, the security forces were fired upon, injuring three officials who were shifted to Combined Military Hospital (CMH).

"There was intense firing from airbase and we requested them to stop because it became difficult to surround the terrorists," Rasheed said adding that the Pakistan Airforce told the police about the presence of terrorists on the outskirts of Quetta.

Home Secretary Akbar Hussain Durrani said the Quetta International Airport and Samungli Airbase are cleared and there was no attack. "The terrorists were near Killi Khezi, about half kilometer from airport, when they were stopped from moving towards airport," Durrani told The Express Tribune.

Cowardly attacks by terrorist can not weaken our resolve: Air chief

Hours after militants tried to storm two airbases in Quetta, Air Chief Air Chief Marshal Tahir Rafique Butt said that such attacks can not weaken their resolve.

During his visit to PAF Base Samungli, which was attacked by the militants last night, Butt was briefed about the operation by the Base Commander Air Commodore Salman Ahsan Bukhari.

The air chief lauded the efforts and valor of officers and security officials who participated in the operation.

Butt also visited CMH Quetta, where he met the officers and security officials who were injured during the attacks.

Addressing the troops, the air chief said, "We must understand and realise that we are in a state of war, that too against a hidden enemy. These attacks can not weaken our resolve to defend our motherland".

"All ranks and file of Pakistan Air Force are focused towards the ongoing operation Zarb-e-Azb and are determined to defend every inch of its Air Bases and infrastructure".

The air chief was accompanied by Commander Southern Command Lt Gen Nasser Khan Janjua and IG FC Balochistan, Maj Gen M Ejaz Shahid.

Separately, Patron-In-Chief of Pakistan Peoples Party (PPP) Bilawal Bhutto Zardari has condemned the terrorist attack on Smungli Airbase in Quetta and praised security forces for foiling the attack.

In a statement issued on Friday, Bailawal said that after Operation Zarb-e-Azb was launched, the terrorists appeared to be planning attacks on security forces and security installation, which should be dealt with the way it was handled in Quetta on early Friday.


#Quetta Update:No terrorist entered base,no base official injured, they fired few rkts,2 landed inside,no damage,encircled while running-1/2

— Gen(R) Asim Saleem Bajwa (@AsimBajwaISPR) August 14, 2014
#Quetta Update:Fleeing terrorists encountered by police/security away from Samugli base! Out of fire range.Base security alert.Under control

— Gen(R) Asim Saleem Bajwa (@AsimBajwaISPR) August 14, 2014
COMMENTS (17)
Comments are moderated and generally will be posted if they are on-topic and not abusive.
For more information, please see our Comments FAQ