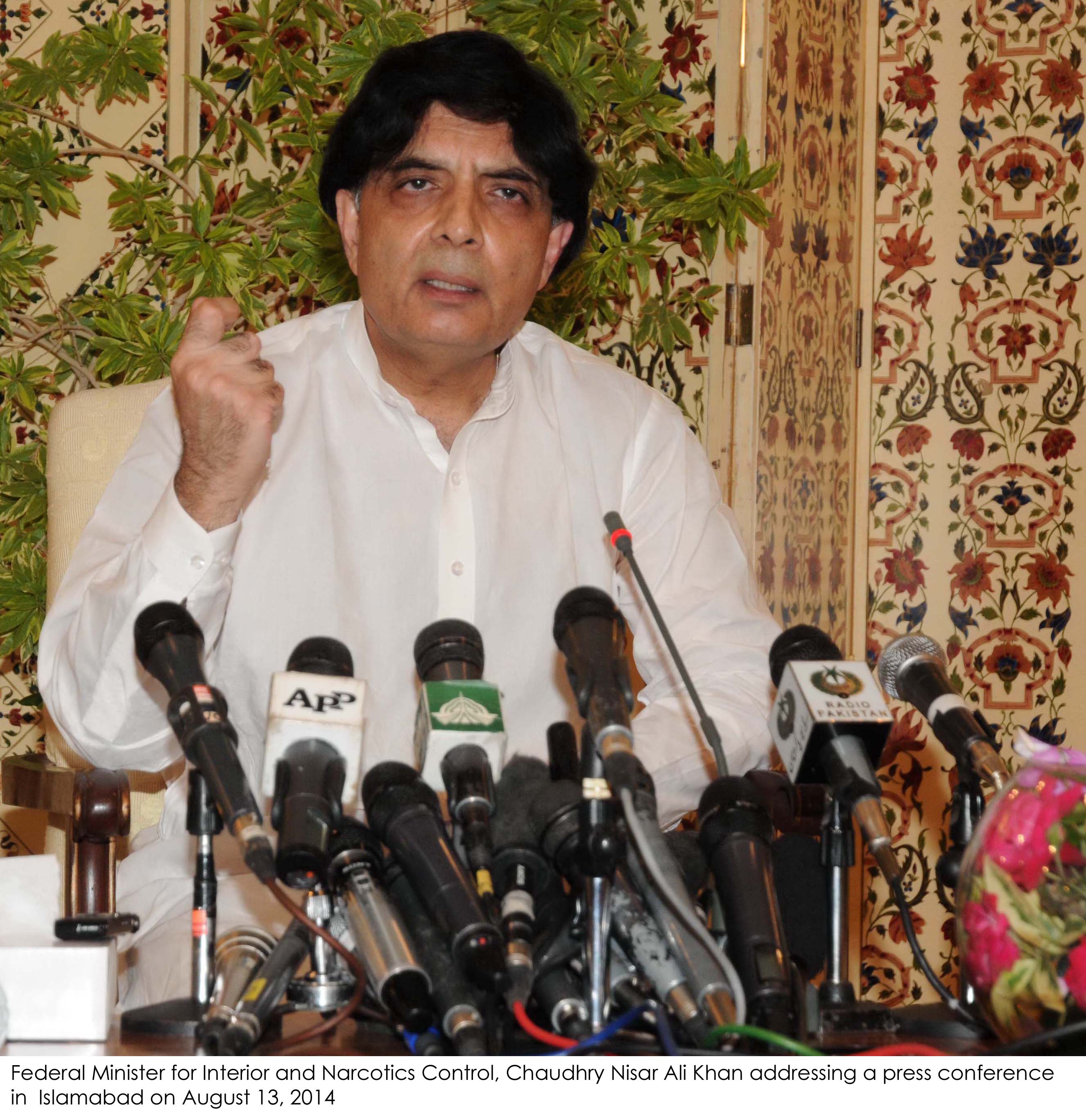 ---
ISLAMABAD: Interior Minister Chaudhry Nisar Ali Khan said on Thursday that government will formally allow long marches to take place in the federal capital soon, but warned that they will not allow a mockery to be made out of Pakistan any further.

Talking to the media in Islamabad, Nisar said that the district administration has received Pakistan Tehreek-e-Insaf's (PTI) and Pakistan Awami Tehreek's (PAT) formal request seeking permission for their sit in in the capital.

"They have been allowed to protest in principle as long as they follow the rules and regulations of the district administration," he said, adding that "no one will be allowed create a law and order situation".

"It is the responsibility of PTI and PAT to hold peaceful marches."

Nisar said that the government has made arrangements for a million people as the PTI had informed them that it will be a million-man march.

Further, Nisar said that following Lahore High Court's orders, they have started removing containers and the twin cities will be unblocked by tomorrow morning. However, he added that some areas will still be sealed off to ensure security with security in the red zone tripled.

"The security of the whole of Islamabad and Pakistan is important not just red zone but we have international obligations and need to safeguard the diplomatic enclave."

"We have agreed that whoever breaches red zone security, then government will deal with them as per law."

The interior minister predicted that the PTI and PAT rallies will reach Islamabad by Friday morning.

Echoing his speech from Wednesday, Nisar said that that the army needs public support during this crucial time when they are fighting a war against militants. He reiterated that the army has no role to play in these marches.

The interior minister said that PTI convoys have started reaching Islamabad and they cannot be provided security until the district administration sets ground rules.