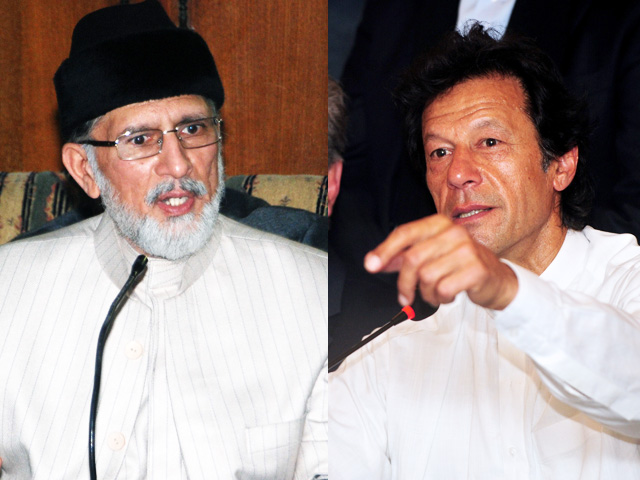 ---
PESHAWAR: As the country braces for Pakistan Tehreek-e-Inaf (PTI) chairman Imran Khan and Pakistan Awami Tehreek chief Tahirul Qadri to make their way into the capital along with thousands of supporters to protests against the government, some in Peshawar stand opposed to the parties' planned long marches.

Terming PAT 'Pakistan Anti-Tehreek' and PTI 'Pakistan Tehreek-e-Immature', Ajab Khan, a tea seller, said that the traders' community had nothing to do with the 'Azadi' or 'Inqilab' marches, adding that their main concern is to feed their families.

Noman, a student of Government College Peshawar, also criticised Dr Qadri for his threatening tone. Quoting Qadri, he said, that "Revolution Baba" has said "the whole country would be set on fire if the police tried to arrest me."

He said, in response, "Mr Qadri could not set the country on fire for which Quaid-e-Azam Muhammad Ali Jinnah, our forefathers and soldiers have rendered a lot of sacrifices. Many Pakistanis like me, live in this country with their families and love it."

Noman added that no Canadian has the right to shatter the peace of the country, damage public and private infrastructure, and tarnish its beauty and image.

He went on to say, "Qadri will return to Canada after playing his role, but we have to live here and we will protect it."

In the same vein, Mumtaz, a government servant, said the PTI chief threatened the government of dire consequences saying he would "shut down the whole country if government tried to put me under house arrest."

Instead of wasting his energy in taking down the government, said Mumtaz, Imran Khan should address problems of the people of Khyber-Pakhtunkhwa.

He also criticised Khan for turning down the government's overture of talks and sticking to his guns of toppling over the government at all cost.

Further, he was off the view that the government has deployed security personnel in width and breath of Lahore and Islamabad, placed shipping containers and imposed Article 245 in the capital to avoid any untoward incident, .

Despite arrests, hundreds of PTI and PAT supporters, carrying sticks and stones, are marching towards Islamabad and Lahore and confronting the police at several places.
COMMENTS (3)
Comments are moderated and generally will be posted if they are on-topic and not abusive.
For more information, please see our Comments FAQ