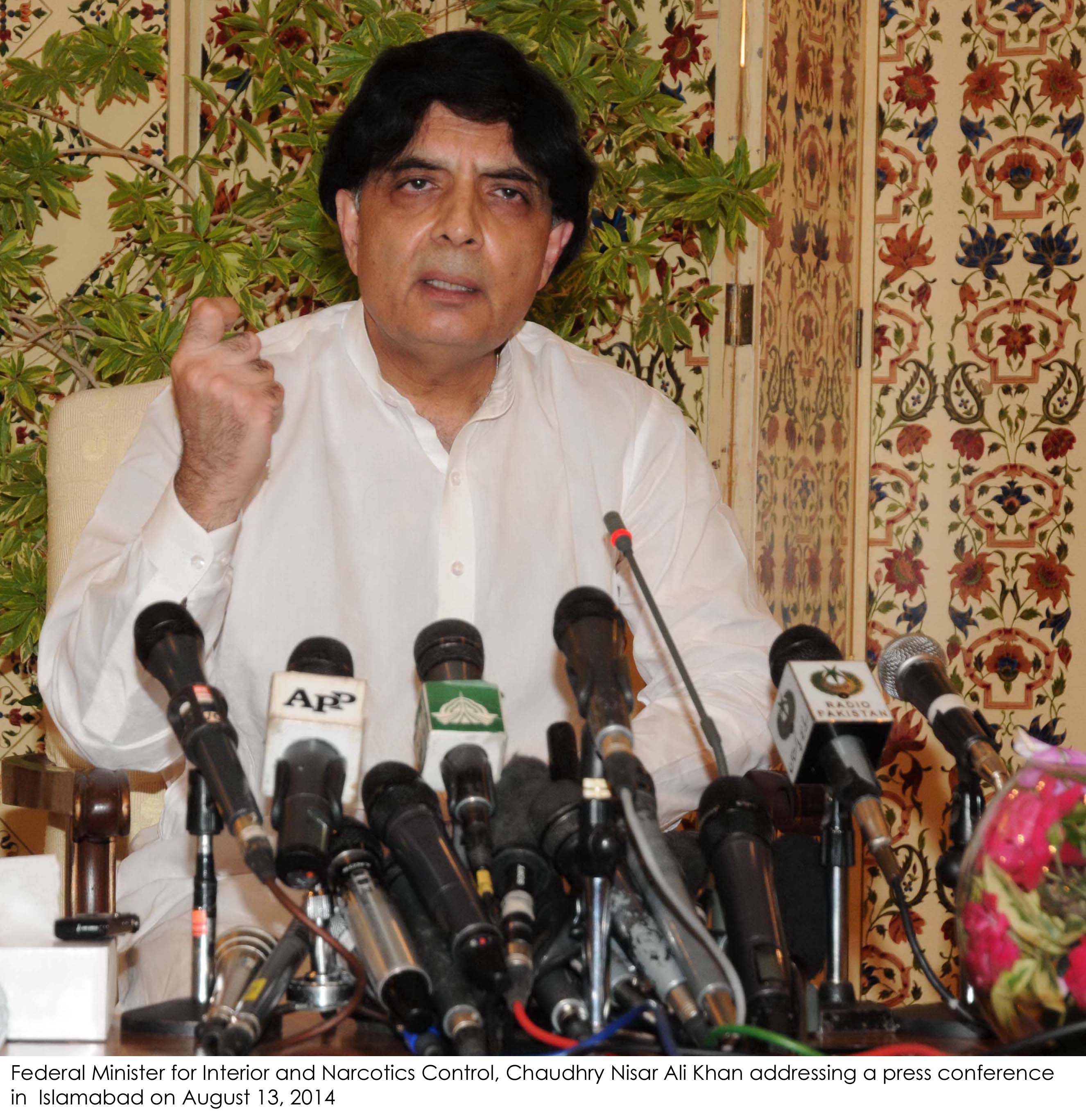 ---
ISLAMABAD:



The government has said it will allow long marches only if the district administrations give permission to protesting parties – including Pakistan Tehreek-e-Insaf (PTI) and Pakistan Awami Tehreek (PAT) – to hold rallies.




"If any party wants to go and hold political procession anywhere, it should apply to the district administration for permission. The district administration(s) will decide if this is within the ambit of the Constitution," Interior Minister Chaudhry Nisar Ali Khan said on Wednesday.

He was addressing a press conference to present what appears to be the government's policy statement soon after the Lahore High Court (LHC) gave its verdict barring any 'unconstitutional' processions and sit-ins.

He said the district administrations would have to first assess if they could provide security to the processions before granting permission. "Additionally the protestors will have to guarantee that their activities would not affect the daily life of citizens," he added.

If statement of the interior minister is taken literally, the protesting parties will have to get permission from administrations of all the districts from where their protestors will pass through to reach their announced destination — the federal capital Islamabad

While major cities and towns of Punjab are already sealed off with shipping containers and heavy contingents of police and other law enforcement agencies are deployed, there is likely to be a showdown when Imran Khan, Dr Tahirul Qadri and other parties start their protest march on capital city today.

It must be noted that Islamabad administration had sent letters to the protesting parties to apply for permission but they have not responded to the authorities so far.

Nisar, in his opening statement, termed the demands of the PTI chief Imran Khan and the PAT chief Tahirul Qadri as unconstitutional. One of the key demands of these protesting parties is resignation of Prime Minister Nawaz Sharif.

He said since Imran Khan and Dr Tahirul Qadri had joined hands, the government had now decided to treat them on equal footing. "The government was already aware that Dr Qadri and Imran were going to join forces at some point in time," he claimed.

The minister warned that there were serious security threats to marchers and their leaders.

"I have received 15 security threats during past few minutes. These alerts are not from government agencies, but military agencies. Similar threats have been conveyed by international security agencies of our friendly countries" he said.

The minister said the government had announced formation of a three-member high level commission of Supreme Court of Pakistan to probe allegations of rigging in 2013 general elections. He said the government was ready to conduct such a probe at any level.

"We had already said that the government is ready to open as many constituencies as the opposition wanted but under the law of land the government could not do so," he added.

The minister claimed that civil and military leadership were on the same page and military had nothing to do with current political turmoil.

In reply to a question, he said he had been having frequent meetings with army chief, which, according to him, revolved around professional matters. "I meet army chief more often than you can think of. It is because of my office as interior minister. We have discussed internal security matters," he said.

The minister thanked the political parties for their support to the government in the testing time and termed the role of what he called 'democratic forces' as remarkable.

The interior minister was satisfied with the manner Punjab police handled the August 10 function of the PAT. Nisar castigated Dr Qadri for his recent statements, adding that the government could not allow a bunch of people to topple the system through violence and threats.

"Dr Qadri is using women and children as human shield to promote his agenda of violence," he said.

Published in The Express Tribune, August 14th, 2014.