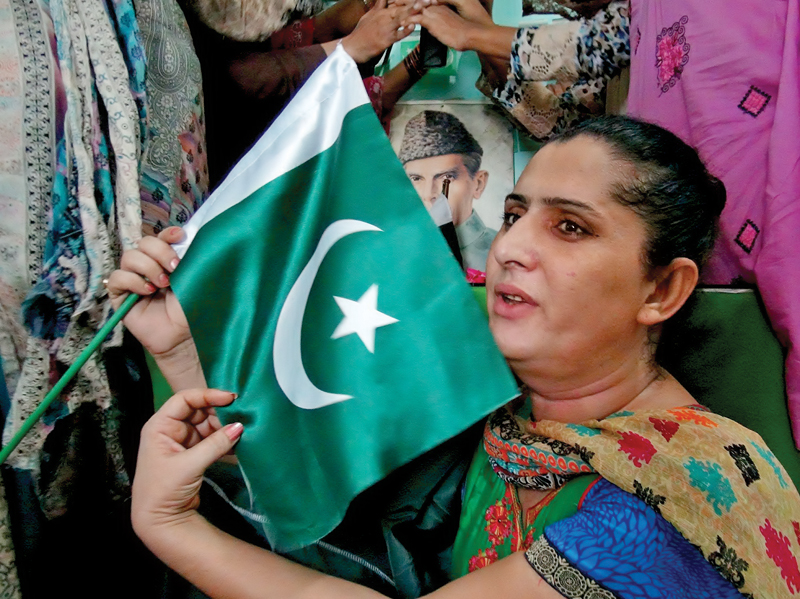 ---
SUKKUR: Members of the Sanam Fakir Welfare Association are with Pakistan, and to show their support and love for the country they met at Sanam Fakir's house to decorate it with flags, lights, buntings and a map of the country outlined with roses.

Sanam Fakir, the president of the transgender association, had organised an event to celebrate Pakistan's 68th birthday at her house where many danced to patriotic songs and stood together to recite the national anthem.

While talking to The Express Tribune, Sanam Fakir said that the thousands of people had laid their lives to secure Pakistan because they wanted future generations to live in peace and harmony. She added that it was sad that many people, including the politicians, had forgotten the teachings of Quaid-e-Azam Mohammad Ali Jinnah who wanted to see the country prosper and grow.

"We are proud to be Pakistani," she said. "We owe our homeland so much." She appealed to Prime Minister Nawaz Sharif, Pakistan Tehreek-e-Insaf's Imran Khan and Pakistan Awami Tehreek's Tahirul Qadri to put aside their differences and focus on the country.

According to Sanam Fakir, the government should think about doing something for the people of the country as more than 50 per cent are living below the poverty line. "The government needs to revisit its economic policies and give the masses some space to breathe," she said. "The country is facing several problems due to bad governance and this is causing unrest among the people." She added that long marches and revolutions cannot provide meals for the poor and only create more chaos in the country.

She claimed that the best way to resolve these problems is to sit on a table and discuss them.

Published in The Express Tribune, August 14th,2014.
COMMENTS
Comments are moderated and generally will be posted if they are on-topic and not abusive.
For more information, please see our Comments FAQ