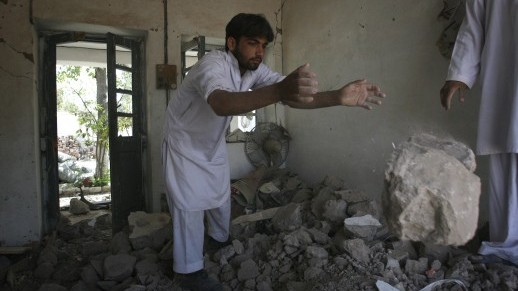 ---
KOHAT: The Taliban have claimed responsibility for the Kohat attack in a telephone call to police on Sunday, police sources have confirmed.

A militant spokesman said the attack on the police station was in response to police arrests and the killing of militants, said a police spokesman in Kohat town.

At least 9 people were killed and more than 32 others including policemen were wounded in the attack at Pindi Road Kohat, located a few kilometers from a displaced people camp where two suicide blasts killed 47 on Saturday.

A suicide bomber rammed his explosive-laden vehicle into Saddar police station in Kohat town, said District Police Officer (DPO) Dilawar Khan while talking to media.

He said that the bomber had used 250 kilograms of explosive in the incident. The DPO said that the explosion killed 9 people and wounded over 32 others including nine policemen and two paramilitary troopers. According to hospital sources, 9 people were killed in explosion.

The blast destroyed building of the police station in Saddar area of Kohat and also caused damage to nearby buildings including a primary school.

Police said that the school was closed because of weekly holiday on Sunday otherwise the attack could cause more casualties.

Khan said that suicide attacks are reaction to the ongoing military operation against the militants in tribal regions. He said the militants are regularly targeting security forces in frustration.

The blast at 07:15 am was heard in the whole city and witnesses said that they saw thick smoke in the air shortly after the blast.

Police said that the police on suspicion tried to stop the vehicle and the bomber exploded the bomb as the police stopped him from approaching the police station.

Authorities have feared further rise in the death toll. This was the third suicide blast since Saturday in Kohat region. Police and other law enforcement agencies have arrived on the blast site and cordoned off entire Kohat district.

Earlier, 2 suicide explosions took place in the internally displaced peoples (IDPs) camp, 25 kilometers from Kohat, that killed at 47 and wounded over 60 others.

On the other hand, President Asif Zardari, Prime Minister Syed Yousuf Raza Gilani and other political leaders strongly condemned a suicide blast in Kohat that killed several people. The president and prime minister in their separate messages expressed his condolences with the families of those who lost their lives in the dastardly terrorist act.
COMMENTS (5)
Comments are moderated and generally will be posted if they are on-topic and not abusive.
For more information, please see our Comments FAQ