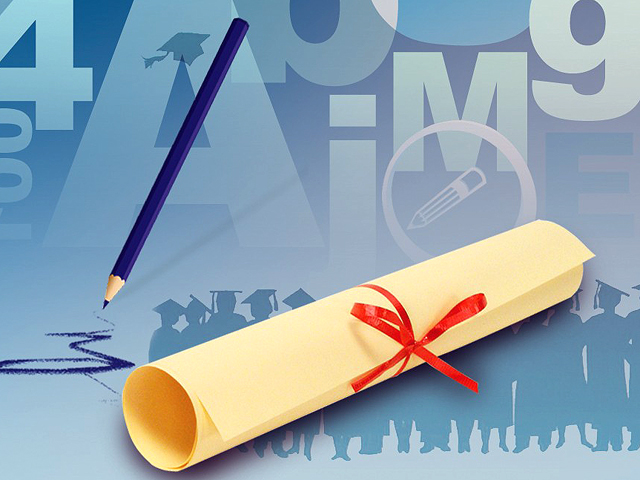 ---
LAHORE: While political temperatures were soaring high, young students spent a sleepless night on Monday awaiting their Cambridge results that were announced on Tuesday.

The Cambridge International Examinations (CIE) reports physics, chemistry and mathematics as the most popular subjects among its courses in Pakistan. It has reported a seven per cent increase in entries for these subjects this year.

Social media was rife with discussions on CIE results. Several Facebook pages were formed where students discussed their grades and shared the excitement. Twitter was used to vent out emotions using the hashtag CIEResults (#CIEResults).

Several schools spent Monday compiling results of O and A level examinations.

For Ayesha Amir, who scored two As and a B, the results were bit disappointing.

Amir appeared so disappointed with a B grade that the aspiring architect found it hard to overcome her emotions. The similar disappointment was expressed by Ebra Hussain who scored two As and a B.

"Geography was my weak area. I scored a B in it even though I had tried really hard," Hussain told The Express Tribune.

For Yahya Ali, an A-level student at Keynesian Institute of Management Sciences, Monday brought a good news as he scored three As and a B. "The results are according to my expectations," he said.

Ali, who had seen his results online, wants to study computer sciences.

Hamza Naqvi, who scored three As in A-level, was over the moon.

"I followed a strict schedule throughout the year. For me the key is not just hard work but also consistency."

With the CIE reporting a global growth of 14 per cent for all of its qualifications this year, it reported an overall rise in entries by seven per cent with entries increasing from 204,000 in June 2013 to 218,000 in June 2014.

CIE Country Director Uzma Yousuf Zaka said this part of the year focused on results.

According to CIE, most popular Cambridge International A-Level subjects are mathematics, physics, chemistry, economics and business studies. It received more than 71,000 entries for the 2014 June series – the number was 69,432 last year.

The most popular non-compulsory Cambridge qualifications for age 16 includes English language, mathematics, Second Language Urdu, physics, chemistry. There were more than 142,000 entries for the 2014 June series against 131,000 last year.

"But schools know that good outcomes depend on a curriculum that inspires children to learn, motivate… providing a good balance between knowledge and skills," Zaka told The Express Tribune.

She said rigorous standards had been ensured to avoid the last year's incident when around 15,000 students had to retake Pakistan Studies and Islamiyat papers.

"We make sure that candidates have the same examination experience and are treated equally and fairly."

Published in The Express Tribune, August 13th,2014.
COMMENTS (3)
Comments are moderated and generally will be posted if they are on-topic and not abusive.
For more information, please see our Comments FAQ