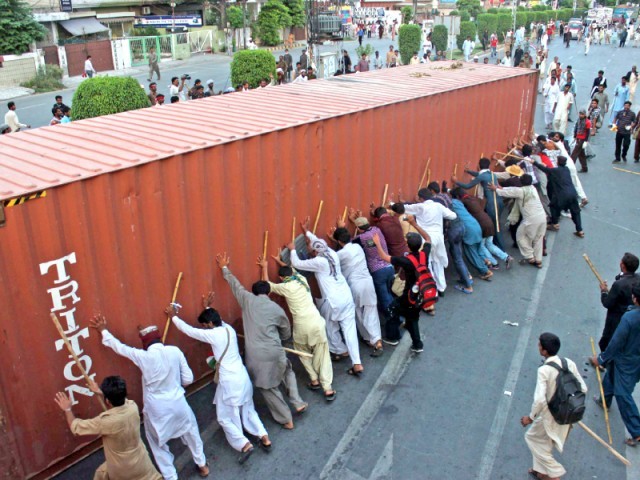 ---
RAWALPINDI: Administrations of the twin cities have decided to deal with activists of Pakistan Tehreek-i-Insaf (PTI) and Pakistan Awami Tehreek (PAT) differently on August 14.

The government has softened its stance against PTI, however, workers of PAT will be confined to Punjab since they can cause trouble in the capital, said a senior government official.

According to the official, the administrations of Rawalpindi and Islamabad were directed by high-ups to show zero-tolerance towards PAT workers.

The official, who is close to the development, told The Express Tribune that the government believes that PAT workers can foment trouble.

During the last four days, dozens of meetings were held by officials of the twin cities and the basic agenda was to control the situation on August 14, he said.

It is clear that the government would not allow PAT workers to enter the city at any cost, he informed, adding that when the PAT chief would be confined to Lahore, their workers would automatically be discouraged to come out on the roads. When asked how it would be possible for the police to control the mob, the official said the police had filled the containers with mud so they could not be moved easily.

Another senior official said that on Wednesday, the administration would take a final decision regarding the complete blocking of roads.

Sources said back-channel efforts were still continuing to convince PTI to postpone its march and Jamaat-i-Islami (JI) Ameer Sirajul Haq was in negotiations with PTI Chairman Imran Khan.

On the other hand, an official in the Rawalpindi administration said police would be deployed jointly in the twin cities. Last time there was a lack of coordination that resulted in the protesters entering the city, he said, adding that arrangements had been finalised and additional police officers would be deployed.

Published in The Express Tribune, August 13th, 2014.