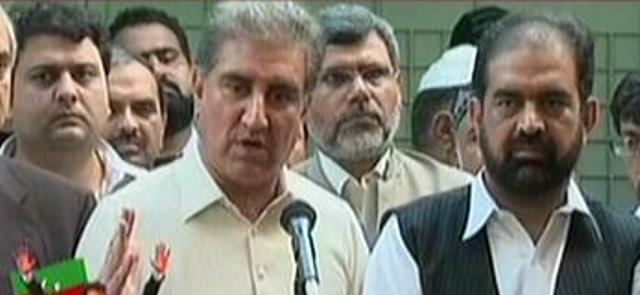 ---
LAHORE: The Pakistan Tehreek-e-Insaf (PTI) and the Pakistan Awami Tehreek have agreed on four points regarding their respective protest marches to the capital city on August 14.

Addressing the media after meeting Pakistan Awami Tehreek (PAT) chief Dr Tahirul Qadri at his residence in Model Town, PTI Vice Chairman Shah Mehmood Qureshi revealed that both parties had come to an agreement regarding PTI's 'Azadi' march and PAT's 'Inqilab' march.

Elaborating on the points, the PTI leader said that the marches would be held in a democratic manner; they will remain within the legal and constitutional parametres and will be non-violent. Further, he added that neither the PTI nor the PAT want to derail democracy and they "will not accept the imposition of martial law".

Refuting allegations that the two parties are working on a foreign agenda, Qureshi clarified that they are working on a "national agenda" and not on anyone else's orders.

"It is being said that we are following a written script; I ask who the author of this script is?" he questioned.

Condemning the road blockades, which, he said, have stopped food and water from reaching PAT supporters stationed at Minhajul Quran scretariat, Qureshi demanded the immediate removal of containers placed around Model Town.

He also held the government responsible for any violence that may be caused on August 14, insisting that the parties have vowed to remain non-violent.

Concluding his press conference, the PTI leader said that talks between the two parties have led to "good developments".