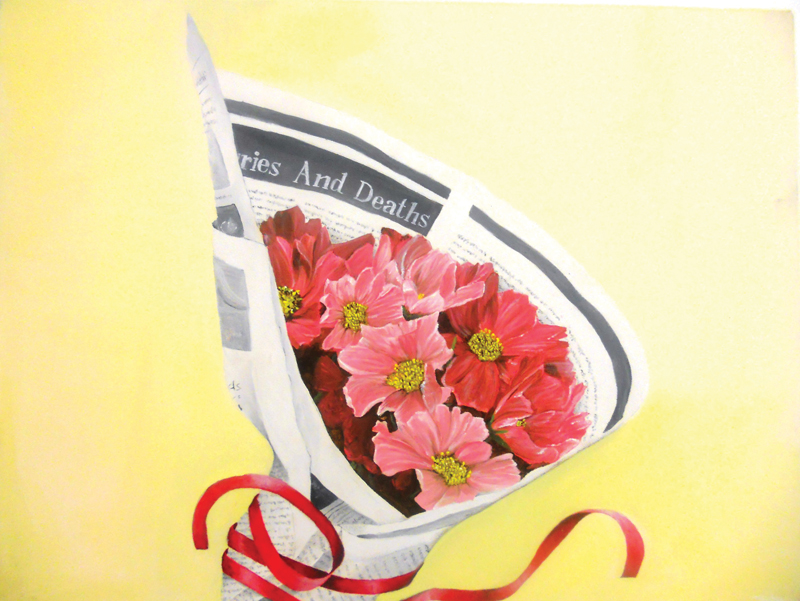 ---
KARACHI: Gloomy images of ramshackle buildings showcasing chaos and confusion are perhaps what might intrigue everyone living in Karachi.

If you head over to VM Art Gallery's latest exhibition, titled 'Kal Aaj Kal', which opened on Thursday, you will surely be intrigued. The exhibition features the works of five female artists who have focused on the past, the present and the future of Karachi in their own unique ways.





Kiran Saeed, Hidden Secrets. PHOTOS: COURTESY VM ART GALLERY




Maira Abid was the painter of the chaotic picture that echoes of cubist influence. Using mixed medium, Abid had drawn intricately intertwined images of dirty, dilapidated buildings with two faces hidden in the background. The viewer feels as if someone is lurking behind.

"We often hear about the 'namaloom afraad' who are behind different sorts of crime," said Abid. Through her artwork, she aims to narrate a story about Karachi which is in a constant state of conflict, she said. Her calligraphic engravings on acrylics, titled 'Artist Book', show the effect the law and order situation of the city has had on the young artist. "Karachi bad-amani ka shikaar' was the inscription that was repeated in continuous form in one of her pieces, excellently delivering the idea of the recurring crimes of Karachi.





Kiran Saeed, Nostalgia. PHOTOS: COURTESY VM ART GALLERY




The escalating lawlessness of our city has greatly affected another artist as is evident in her works. One of Tooba Rooman's masterpieces was a bouquet of flowers wrapped inside a newspaper containing stories of deaths.

"We have become so immune to our surroundings that we don't even care anymore," she regretted. "For example, the bouquet is usually a congratulatory gift. But we don't care even if it comes wrapped inside a list of deaths."




Talking about her oil on canvas painting of a ribcage with a hand grenade in place of a heart, she said that our hearts have 'blackened'.

Rooman had drawn a picture of a girl who appeared to have wings and was all set to fly away. Using oil on canvas again, she played effectively with symbolism here. "Our survival instinct has become overly activated," she explained. "The girl in the picture is looking for escape from the chaos around us, without worrying about anything or anyone other than her. We have just stopped caring."

On the other hand





Maira Abid, Nazuk Surat-e-Hal. PHOTOS: COURTESY VM ART GALLERY




Nausheen Khan seemed to be under the influence of the Italian Futurists in her works. Employing soft pastels artfully on canvas, she had focused on time, light and motion.

"Every human is a part of a race against time," she told The Express Tribune. "Life moves on and never stops." Movement is quite evident in her paintings as the images are bright yet blurry. It appears as if they are hazy photographs of something moving on.

Zeenat Rizvi takes an entirely different perspective. Incorporating clothes into neural networks found in the human brain, she takes the viewer into a world of interconnected past and future.

"Clothes are a symbol of culture and the old ones remind us of the past," said the young artist. "The clues of the future are present in the present and past."





Nausheen Khan, Night Life . PHOTOS: COURTESY VM ART GALLERY




In the same coin, Kiran Saeed's painting titled 'Nostalgia' was full of grey faces. "These symbolise the faces of those who have lived in the past, now live in the present in our memories, and will continue to live as memories are passed on," she said.

Saeed had created another masterpiece titled 'Hidden secrets'. Employing acrylic and oil on canvas, she painted shiny shoes in some opened boxes surrounded by closed boxes. According to the artist, our politicians are the like of these glittery boxes. "They show us only their dazzling sides and we don't know what is hidden inside the whole package."

Another painting depicting a variety of colourful shoes was also on display. "We buy branded shoes to pretend that we are affluent and civilised," she said. "In reality, we have no etiquette or civilisation" Speaking of cultural degradation, the artist believes that we have 'nothing other than shoes'.





Tooba Rooman, Untitled . PHOTOS: COURTESY VM ART GALLERY




Curator Riffat Alvi was happy to exhibit the works of the young maestros. "I gave them the chance to put up their works on display, otherwise they would have been disheartened and stopped being creative."

Emerging talent Arsalan Nasir was also present on the occasion. "I have been classmates with these girls and was really looking forward to what progress they have made," he said. "It has been a great shift, I must say."

The exhibit will continue till August 14.

Published in The Express Tribune, August 9th,2014.