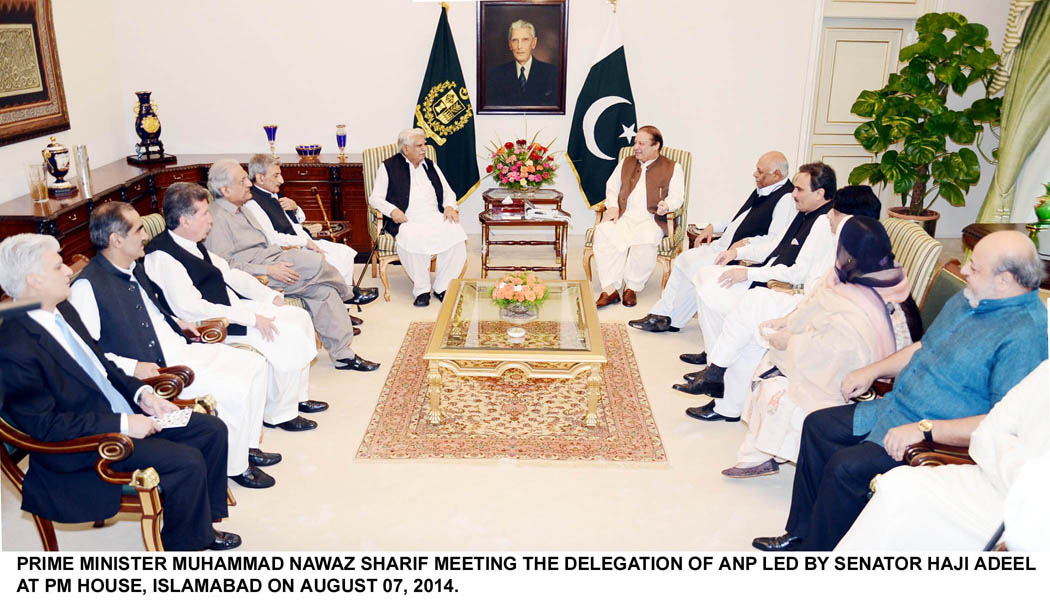 ---
ISLAMABAD: Following a consultative meeting with the prime minister regarding Imran Khan's 'Azadi' march to the capital on August 14, opposition leaders on Thursday extended their support for democracy and backed the governments call for negotiations with the Pakistan Tehreek-e-Insaf (PTI) chief.

Addressing the media outside the PM house in Islamabad, Awami National Party (ANP) Senator Haji Adeel said his party supports democracy and urged Imran to start a political dialogue with the government rather than resorting to sit-ins.

Referring to reports that the PTI has drafted demands to be presented to the government, Haji Adeel said that the government should talk to opposition parties and discuss their demands to find a solution.

"The government seems interested in resolving issues through talks," he said.

Earlier, the government, including Prime Minister Nawaz Sharif himself and senior Pakistan Muslim League-Nawaz leaders urged Imran to talk to them rather than protest. However, the PTI chief had said that the "time for talks is over" and closed the doors for negotiations.

Further, Haji Adeel said Article 245 should be revoked, adding that protests are the right of every party but added that political parties should guarantee that the protests will be peaceful.

ANP leader Ghulam Ahmed Bilour went a step further and said that the PTI chief should have consulted opposition parties before making any decisions or demands.

"Qadri's demands are unconstituional," said Haji Adeel in reference to  Pakistan Awami Tehreek chief Dr Tahirul Qadri's revolution march and claims that the incumbent government will not be in power beyond the end of August.

Pakistan Peoples Party Senator Raza Rabbani also spoke to the media and said that his party stands by democracy, adding that protesting is a constitutional right and the government should not arrest protesters.

Meanwhile, the Muttahida Qaumi Movement (MQM) has summoned an All Parties Conference to resolve the issue. MQM Deputy Convener Farooq Sattar said that while parties have the right to protest, and long marches should be taken out, talks should also be held.

All parties should come together for democracy and the constitution should be upheld, he said, while speaking to the media.

Govt contacts Jamaat-e-Islami

Interior Minister Chaudhry Nisar Ali Khan and Federal Minister for Railways Khawaja Saad Rafique contacted Jamaat-e-Islami (JI) chief  Sirajul Haq and JI leader Liaqat Baloch to discuss Pakistan Tehreek-e-Insaf chairman Imran Khan's demands, Express News reported on Thursday.

Sirajul Haq will give a time to meet Nisar and Rafique tomorrow.

Leader of the Opposition Khursheed Shah also called the JI chief and the two discussed options for negotitations between the PTI chief and the government.
COMMENTS (5)
Comments are moderated and generally will be posted if they are on-topic and not abusive.
For more information, please see our Comments FAQ