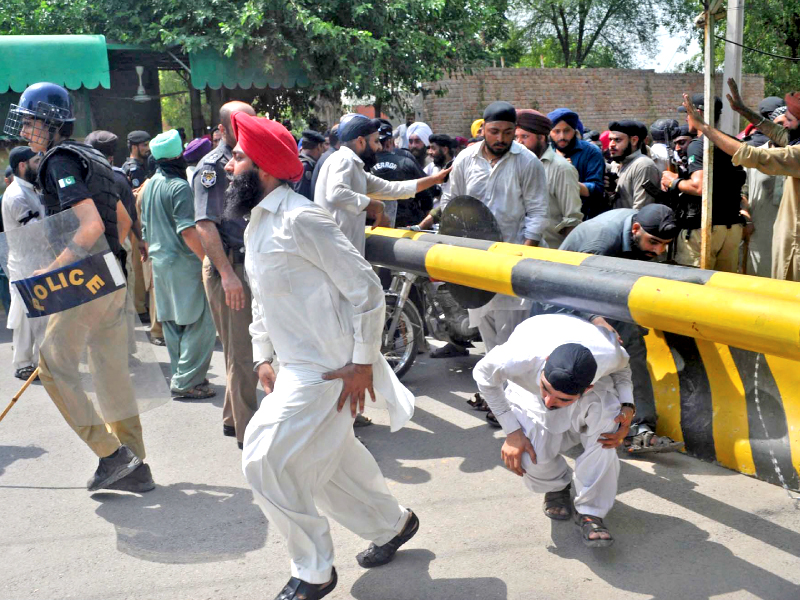 ---
PESHAWAR:



One Sikh shopkeeper was killed and two of his friends were injured when unknown assailants opened fire at them in Khushal Bazaar, Hashtnagri, on Wednesday morning. However, there were conflicting reports about the number of attackers.




According to a witness, there was only one attacker who was wearing a mask and had a pistol in his hand. He targeted the three boys separately. At around 10 am, Jagmohan Singh, a teenage shopkeeper, came to the market where he had a cosmetics shop. When he was opening his shop, he was sprayed with bullets. "Jagmohan and Parimjit's shops are opposite to each other. The attacker first targeted the former and then the latter, while the third man who was shot had a shop around 100 metres away," he told The Express Tribune. "The deceased just rented that shop 20 days ago," he added.

The three boys were taken to Lady Reading Hospital (LRH) where Jagmohan Singh succumbed to his injuries. The condition of Parimjit is said to be critical.

Meanwhile, the brother of the deceased said, "He was just 19 years old and was recently engaged. This is not an age to die." He added, "What was his crime?"




The cold-blooded murder highly enraged the Sikh community in the city who took to the Grand Trunk Road and blocked the artery for more than one hour with Jagmohan's body and set tyres on fire.

Then around 1:30 pm, the protesters marched towards the provincial assembly, but they were not allowed to stage a sit-in outside the building, after which they proceeded towards the Chief Minister House. The protest there lasted until 3:40 pm when CM Pervez Khattak met the Sikh delegation, who announced Rs500,000 in compensation for the deceased and Rs200,000 for each of the injured.

Soran Singh, the Pakistan Tehreek-e-Insaf minority MPA told The Express Tribune that their demand was protection for the minorities in the city and across the Khyber-Pakhtunkhwa province.

"In the last one year, at least three members of the Sikh community have been killed in the settled districts," he said. It is plain targeted killing as these people had no enmity with anyone, he said. "We have only one demand that the culprits involved should be arrested immediately and brought to justice."

Meanwhile, Hashtnagari police lodged an FIR against unknown miscreants and began the probe. So far, the reason behind the shooting has not been ascertained.

Published in The Express Tribune, August 7th, 2014.
COMMENTS (12)
Comments are moderated and generally will be posted if they are on-topic and not abusive.
For more information, please see our Comments FAQ