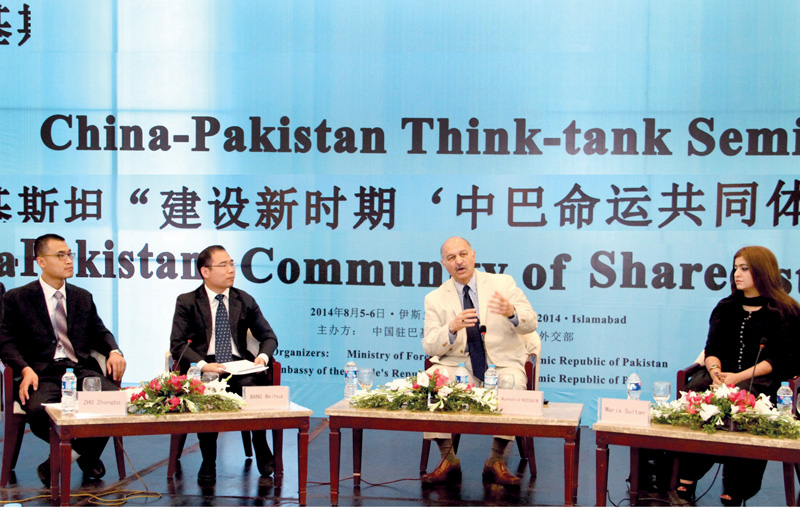 ---
The need for a joint counter-terror strategy by Pakistan and China was highlighted by Senator Mushahid Hussain Sayed, chairman of the Senate Defence Committee at a seminar on Wednesday.

The Pakistan Muslim League-Quaid Senator was chairing a session on Pakistan-China relations which was especially convened to coincide with the upcoming visit of Chinese President Xi Jinping to Pakistan.

Sayed said terrorism has no borders, religion or ethnicity and is a trans-national problem requiring a regional approach from Pakistan, China and the other four neighbours of Afghanistan: Iran, Tajikistan, Turkmenistan and Uzbekistan.

He proposed there should be concrete coordination among these states which could include better border management and stringent border controls to ensure
that terrorists do not cross over into each other's territory.

Welcoming the proactive political and diplomatic role of China towards Afghanistan, the Senator lauded the appointment of a Special Chinese Envoy for Afghanistan, hosting of a maiden international conference on Afghanistan in China as well as greater coordination between Beijing and Islamabad on Afghanistan. He also announced that the Pakistan-China Institute, of which he is the chairman, would be hosting a trilateral think tanks conference of Pakistan, China and Afghanistan in October 2014 in Islamabad.

Sayed also called for highlighting the role of the media to present a counter narrative in the campaign against terrorism.

Referring to the recent incidents of violence in Xinjiang province of China, Sayed expressed full solidarity with the Chinese government and its people in their efforts to combat terrorism and religious extremism.

Speaking on the occasion, SASSI University Chairperson Maria Sultan said the impact of terrorism is national as well as regional, thus counter-terrorism efforts have to be made at the regional level as well. Referring to the global war on terror, Sultan said after 13 years of conflict and spending of almost $1 trillion in Afghanistan, more than 28 provinces of the country are faced with terrorism. "These are the same provinces that border the neighboring states and in this regard, effective mechanism for border management is essential," she emphasised.

The speakers from China were of the view that collaboration between think tanks of Pakistan and China is an encouraging sign and will bring strategic thinking from both countries on the same page.

In his concluding remarks, Sayed said in order to for the joint counter-terror strategy to succeed, it is imperative that Pakistan first formulate a coherent strategy of its own.

Published in The Express Tribune, August 7th,2014.
COMMENTS
Comments are moderated and generally will be posted if they are on-topic and not abusive.
For more information, please see our Comments FAQ