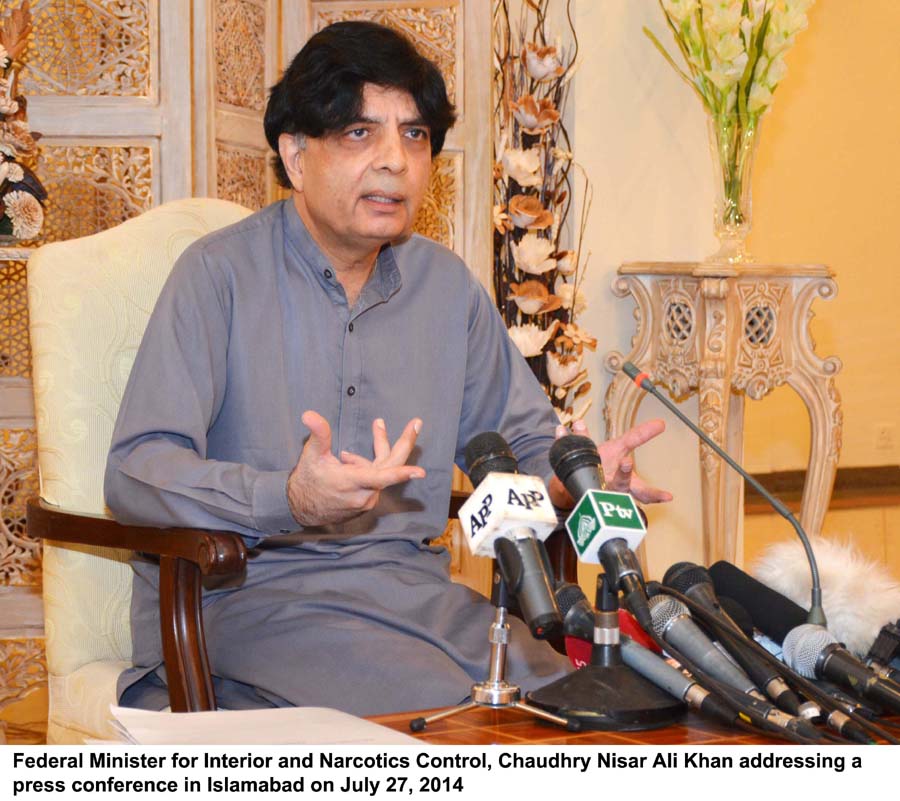 ---
ISLAMABAD:



Feisty politicking took place in the National Assembly when the ruling Pakistan Muslim League-Nawaz (PML-N) defended its decision to requisition troops in the federal capital under Article 245 of the Constitution while the opposition decried the move.




But the government also adopted a reconciliatory tone when it 'requested' Pakistan Tehreek-e-Insaf (PTI) to call off its planned Azadi March at Islamabad's D-Chowk on August 14. However, it added that the request should not be taken as a weakness.

During the National Assembly session, three government ministers – Minister for Railways Khawaja Saad Rafique, Minister for Defence Khawaja Asif and Minister for Interior Chaudhry Nisar Ali Khan – separately asked the PTI to engage either in direct talks or through any political leader with the government to resolve differences.

The three senior members of the ruling Pakistan Muslim League-Nawaz (PML-N) seemingly spelt out their government's eagerness to resolve differences with the PTI through a 'request', the realisation of the parliament's sanctity and through mediation by some leading politicians.

"I request the PTI to postpone the [Azadi] march and I request them not to adopt the mindset of Dr Tahirul Qadri because you [unlike his Pakistan Awami Tehreek] are a political party," said Rafique, adding, "the only way to keep democracy going is through talks."




Then came Khawaja Asif who said, "I want to ask PTI, which has presence in the assemblies, to settle our matters at the floor of this house."

And finally, it was Chaudhry Nisar's turn who first defended the invocation of Article 245 and then asked leading political figures to play a role in resolving political differences.

The interior minister mentioned the name of Sheikh Rashid Ahmed, his archrival, to play a conciliatory role, saying, "It would be a great service to the country and the government would respond positively."

Justifying the decision, Nisar said the government would never use the army for political battles. "I assure this house that the government would neither involve the army in political affairs nor will we use it against any political rally or protest." He explained that parliament's approval was never taken for the article has been implemented before.

He reiterated that the notification clearly states that the article was invoked to combat terrorism, then "how can people say that it was done for political reasons". "The army does not serve any political party, it is for the entire country," the interior minister said, adding that there is no shame in asking the army for help.

"Developed countries such as England, Italy and Spain have also sought the help from their armies to assist civilian leadership," Nisar remarked.

The minister stated that Islamabad had not been handed over to the army, adding that the army will be carrying out its operations under the Anti-Terrorism Act. "When a military operation is being conducted, emergency is usually declared throughout the country but the PML-N government did not do this."

PPP's warning

Earlier, Leader of Opposition in the National Assembly Khursheed Shah said the Pakistan Peoples Party will be ahead of the PTI and PAT in protesting against the government if it fails to annul its decision to implement Article 245 in Islamabad. The opposition leader said summoning the armed forces can be interpreted as a failure of the government. "Is the army being called in to stop the protest rallies?" he questioned. Shah claimed that the imposition of the article was equal to trying to eliminate political forces.

In addition to the PPP, every political party in the opposition benches decried the move and demanded immediate withdrawal of the decision.

Before that, however, Mehmood Khan Achakzai, the chairman of Pakhtunkhwa Milli Awami Party, urged PM Nawaz Sharif to convene a meeting of all political leaders for the resolution of issues. A resolution calling for no 'compromise' on the violation of the constitution should be passed from all provincial and national assemblies as well as the Senate.


Published in The Express Tribune, August 6th, 2014.