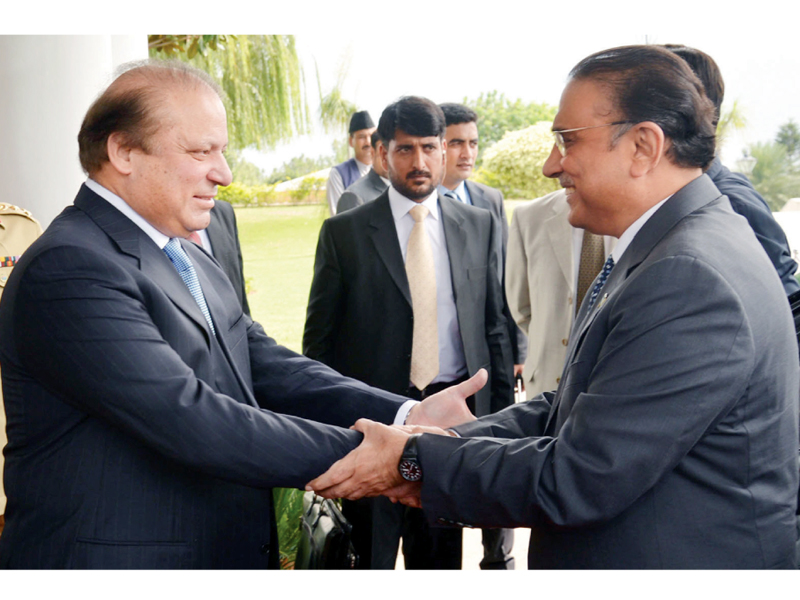 ---
LAHORE:



Prime Minister Nawaz Sharif will either meet former president Asif Ali Zardari in Islamabad or send a close aide to consult with him in London in the coming days, before taking a decision on Pakistan Tehreek-e-Insaf (PTI)'s long march, The Express Tribune has learnt.




Meanwhile, it is reported that the PM and Zardari also had a late night telephonic conversation.

The sources in Pakistan Muslim League-Nawaz (PML-N) said the PM informed his senior party leadership that he would take Zardari into confidence on decision regarding the PTI's long march, to be held in Islamabad on August 14. After this meeting, PML-N would be able to shape up final decision on the long march, they added.

They said Zardari is likely to meet Nawaz Sharif in the coming days. But if he could not come to Pakistan in a couple of days then Finance Minister Ishaq Dar will go abroad and discuss an amicable solution of Imran Khan's long march and Qadri's revolution march.

It is pertinent to mention that Zardari has recently made contacts with political parties' heads and called up Pakistan Muslim League-Quaid (PML-Q) chief Chaudhry Shujaat Hussain, Awami National Party (ANP) chief Asfand Yar Wali Khan, PTI's Chairman Imran Khan and Jamaat-e-Islam (JI) Ameer Sirajul Haq.

According to sources, the former president is getting their demands, which will be shared with Nawaz or with his close aide in their coming meeting to strike some deal between the PTI and the federal government.

The sources said Zardari wants some relaxation for the PTI and is working on some draft of proposals, which he wants to develop before becoming part of the consensus that the PML-N wants to have on the PTI's long march.

Talking with The Express Tribune, Information Minister Pervaiz Rashid confirmed the PML-N is in contact with Zardari and his party. He said Khurshid Shah's meeting with PM was also held with the approval of the former president.

He neither confirmed nor denied that Nawaz Sharif or Dar were going to meet the PPP's co-chairman. However he said it was part of the PML-N policy to communicate with democratic forces.

Meanwhile, the PML-N in its Monday's meeting sought ways to deal with the PTI's August 14 Independence March and Dr Tahirul Qadri's August 10 Martyrs' Day. The majority voices in the meeting supported the idea of allowing Imran Khan and Dr Qadri's marches enter Islamabad. They, however, suggested that any decision to allow or disallow the PTI should be taken after consultation with all major political parties.

The PML-N senior leaders have suggested that the decision on the long march should look like a decision of all major political parties and not just that of the PML-N. The PM on Tuesday also held meetings with leaders of various political parties at PM House and sought their opinion on the one-point agenda – whether or not the PTI should be allowed to hold a long march in Islamabad.

According to sources, all leaders – including JUI-F chief Maulana Fazlur Rahman, Pashtoonkhwa Milli Awami Party Chairman Mehmood Khan Achakzai, Qaumi Watan Party chief Aftab Sherpao  – have urged Nawaz to allow the long march in Islamabad.

Published in The Express Tribune, August 6th,2014.
COMMENTS (15)
Comments are moderated and generally will be posted if they are on-topic and not abusive.
For more information, please see our Comments FAQ