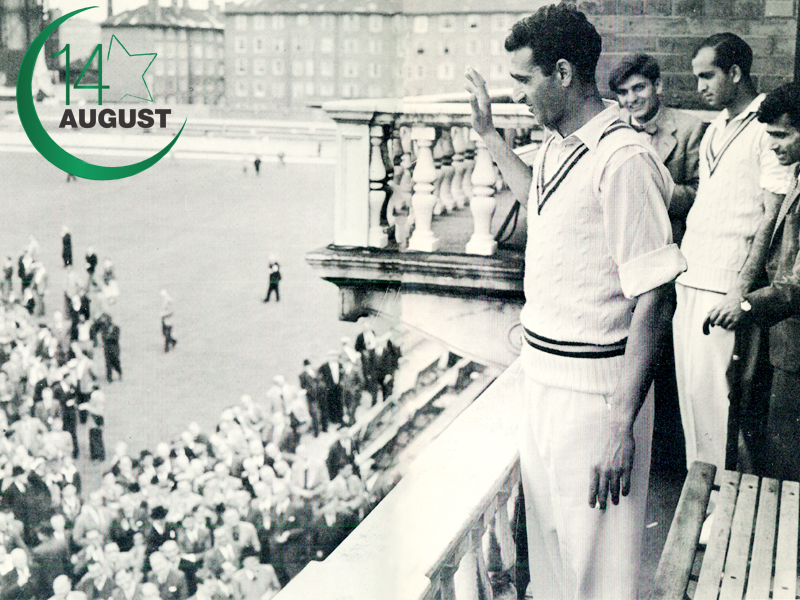 ---
A.H Kardar acknowledges applause after Pakistan's Test victory at the Oval in 1954.

"Pakistan's debut in international cricket took place in December 1951, when the least known and the least experienced team became the first side to beat a visiting English team, doing what undivided India had not done in three decades," states a commemorative book issued by the government on the centenary of Quaid-e-Azam's birth. "Early hopes were further confirmed when the Pakistan team beat India at Lucknow in October, 1952… The most outstanding achievement came during the England tour in 1954, when for the first time a team on its first tour beat the formidable England XI at the Oval, thus leveling the Test series under totally alien playing conditions."

PHOTO & TEXT: PAKISTAN: PAST AND PRESENT (1977)

CONCEPT: SANAM MAHER

DESIGN: SAMRA AMIR

This August, The Express Tribune will feature photographs from contributions to an open call for images from the struggle for independence and Pakistan's formative years.

Published in The Express Tribune, August 5th, 2014.
COMMENTS (2)
Comments are moderated and generally will be posted if they are on-topic and not abusive.
For more information, please see our Comments FAQ