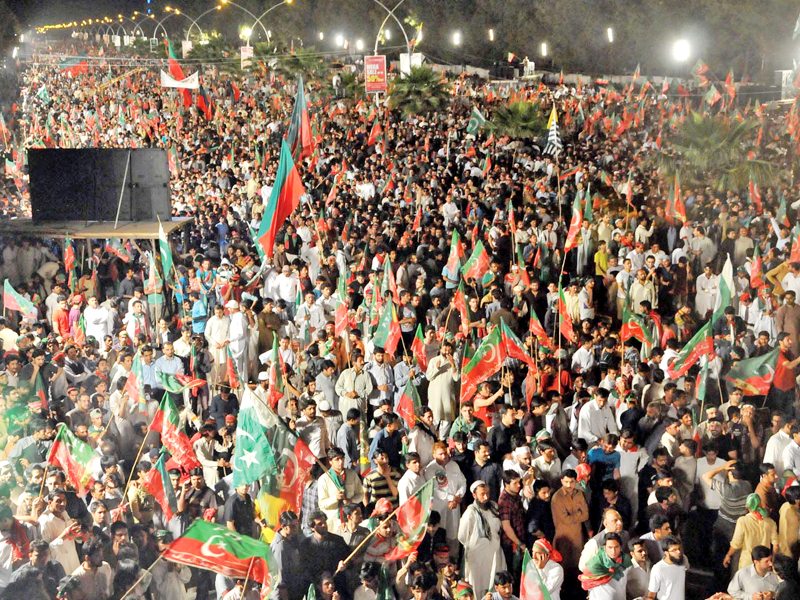 ---
PESHAWAR: Pakistan Tehreek-e-Insaf (PTI) has started gearing up for its August 14 'Azadi March' after party chief Imran Khan told MPAs, MNAs and office bearers to mobilise the general public.

The march is scheduled for Independence Day when the party hopes to head towards the federal capital to protest what it says was rigging in the May 2013 general elections. Part of the agenda is to oust the incumbent government. Critics have questioned the timing of this agitation given that the government is trying to deal with the displacement of over 800,000 people from military operation Zarb-e-Azb in the terrorist-hit Federally Administered Tribal Areas and Khyber-Pakhtunkhwa.

As expected, the PTI harnessed its usual social media and communications networks to try to get the message across. Party members held meetings Sunday morning after receiving the go-ahead from Imran Khan and sent out text messages, urging people to reach registration points. "Azadi March! Please join a registration camp today at Dalazak road near Maqsood Tailors at 4pm," read one of the messages.
MPA Shaukat Yousafzai said that registration would begin in the villages and move on to the union councils. A main office has been opened at Hashatnagri. "People are already prepared and we are far ahead of schedule," Yousafzai added.

PTI's provincial spokesperson Aisha Gulalai said the target was to bring over "25,000 people from each district of K-P". For what it is worth, Imran Khan has said that they expected one million people to converge at D-Chowk. The party leadership had already closed the door on negotiations with the government.

Meanwhile, another PTI MPA, Javed Naseem, said, "We are ready to tender our resignations and are just waiting for the chairman's order. This will be a jihad against corruption. We want an independent judiciary and election commission".

Engineer Hamidul Haq Khalil, a PTI MNA from Khyber-Pakhtunkhwa, said that all federal lawmakers from the party would hand in their resignations to Imran Khan during a meeting an hour before the next National Assembly session scheduled for today, Monday. Federal Information and Broadcasting Minister Senator Pervaiz Rashid has said the government would hold by-elections if PTI legislators quit the assemblies. There are 34 PTI members in the house of 342.

An earlier version of the story mistakenly reported that there were 15 PTI members in the house. The error is regretted. 
COMMENTS (3)
Comments are moderated and generally will be posted if they are on-topic and not abusive.
For more information, please see our Comments FAQ