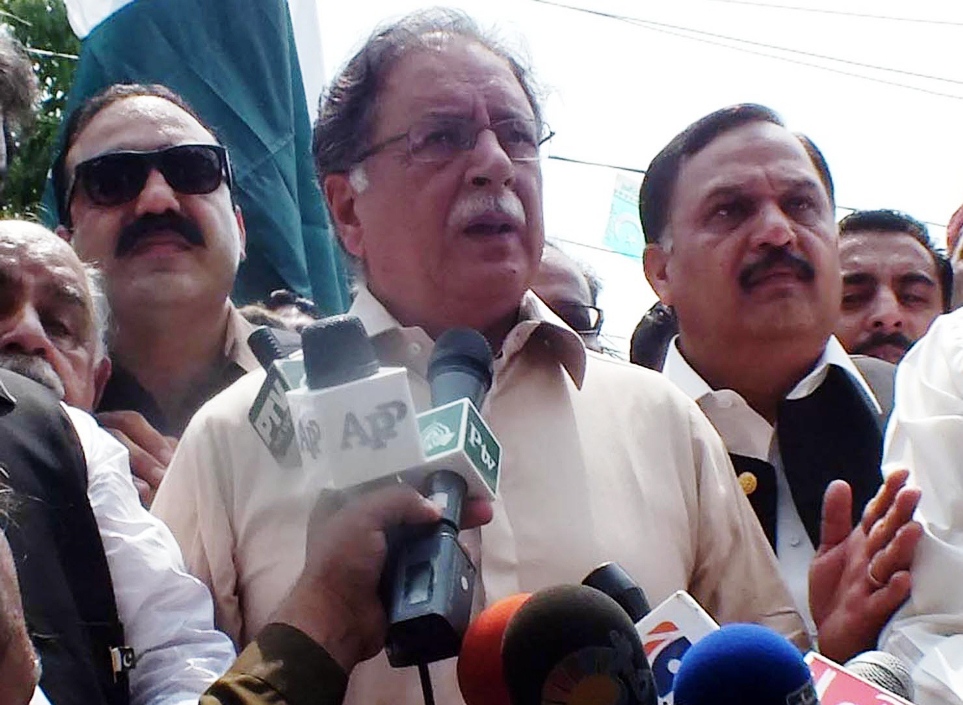 ---
RAWALPINDI: Federal Minister for Information and Broadcasting Pervaiz Rasheed on Sunday said Imran Khan, Tahirul Qadri and Chaudhry Shujaat Hussain would be responsible for maintaining peace during their planned protest rallies.

Pakistan Tehreek-e-Insaf (PTI) and Pakistan Awami Tehreek (PAT) have announced demonstrations against the current government, garnering support from various political parties.  PTI is scheduled to march towards Islamabad on August 14, while Qadri is yet to announce a date for what he has been calling the day of 'revolution'.

Talking to the media at a flag hoisting ceremony held in connection with Independence Day celebrations, Rasheed said Pakistan Muslim League-Nawaz (PML-N) believes in achieving political motives through democratic ways and not protests.

Qadri threats

In response to Qadri's latest press conference where he claimed the PML-N governments in Punjab and the Centre will be ousted in August, Rasheed said these threatening statements are devoid of substance, Express News reported.

The information minister said the PAT leader was conspiring with the Chaudhrys who had supported a dictator in the past.

"Qadri is a tax evader and he will soon run away to his home in Canada," Rasheed added.

Independence struggle 

Remembering the struggle of 1947 and paying tribute to those who laid down their lives for the creation of Pakistan, Rasheed on Sunday said Muslim League members fought for Pakistan under the leadership of Muhammad Ali Jinnah and they will make Pakistan a better place under the guidance of Prime Minister Nawaz Sharif.

"Our forefathers had taken part in the freedom struggle and we will not let those sacrifices go to waste." said the information minister while praising PML-N party members for their struggle for democracy and overwhelming support during last year's general elections.

Rasheed called on supporters of other political parties to learn from PML-N and not take part in destructive politics.

"This is no more the old Pakistan where the divide between the rich and the poor was very deep; today, common people enjoy similar luxuries as those from the privileged class," he said, pointing out the metro bus projects introduced by PML-N government.