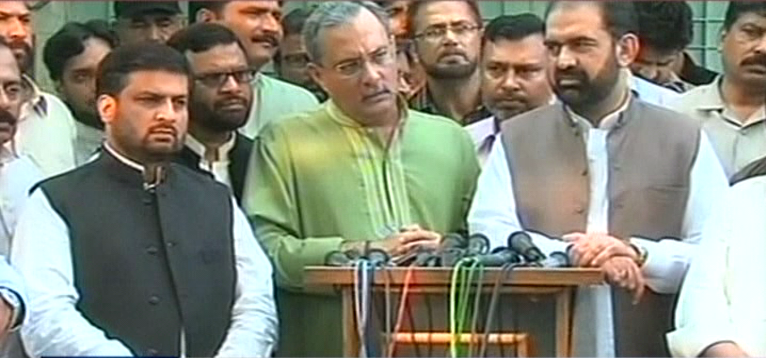 ---
LAHORE: Muttahida Qaumi Movement (MQM) leader Haider Abbas Rizvi, while speaking to the media in Lahore, said the party is not certain whether it would take part in Tahirul Qadri's Inqilabi march on August 14.

"The extent to which we will be involved and the mechanisms we will use will be brought forward in the coming days," he said in regard to MQM's participation in the march. The MQM leader went on to add that people are concerned about PTI's August 14 Azadi march. However, he said, it is the right of every political party to stage a protest, but not to create chaos.

Responding to a question about Article 245, Rizvi said, "The impact of the decisions taken by the prime minister and the federal cabinet can only be spoken about once the results come to light."

"Our paramilitary troops had already taken over parts of Islamabad to clear the area of militants. Article 245 was issued later, and the results and ideas of Interior Minister Chaudhry Nisar will only come forward in time," he added.

In regard to the Model Town case, Rizvi said he did not think such an incident would occur in a city such as Lahore, adding "if such a trend develops, it will be a point of concern."

"The Model Town incident should be a lesson for both the provincial government as well as the federal government."

In response to a question about the possibility of mid-term elections, the MQM leader said, "I cannot say anything about this yet, because no concrete policy has been issued from MQM as yet. We will see how the situation develops and will speak about it accordingly."
COMMENTS (16)
Comments are moderated and generally will be posted if they are on-topic and not abusive.
For more information, please see our Comments FAQ