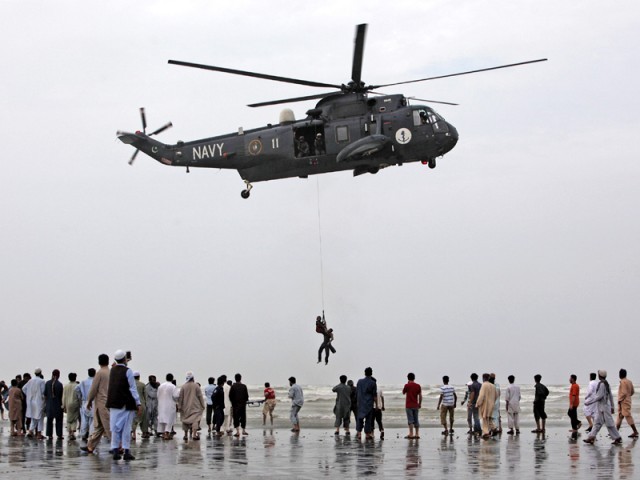 ---
KARACHI: Nine more bodies of people who drowned at Clifton beach in Karachi were recovered on Friday, bringing the death toll to 36, Express News reported.

The Sindh government announced Rs0.2 million each for the families of the deceased.

On July 31, rescue services had recovered bodies of 27 men who had ventured into the seas during the Eid holidays. Twenty-four bodies were recovered from Sea View, two from Paradise Point and one from Hubco.

Three people are reportedly still missing and the rescue operation is underway.

Navy officials have also come forward with helicopters and divers to assist the ill-equipped and poorly managed municipal authorities.

The Maritime Security Agency and Pakistan Coast Guard are now participating in the rescue efforts. However, they had earlier held back from the rescue efforts, saying it did not fall within their jurisdiction and they were unable to carry out a search and rescue operation due to the rough conditions at sea. Edhi's rescue services officials have also been asked to stay out of the water in order to avoid any further mishap.

Section 144, which bans the gathering of more than four people at one place for rallies and protests, is imposed on swimming at the beach.

Some of the deceased were visiting Karachi from across the country for the Eid holidays. There were reports of scuffles between families trying to picnic at the beach and the police, as they prevented them from heading to the shore.

Municipal body to draw up safety plan

Deputy Commissioner South Mustafa Jamal Qazi, while speaking to Express News, said the municipal authorities will have a meeting with the commissioner tomorrow to draw up a proper plan to avoid such incidents in the future.

Qazi regretted that many people who come to the beach don't follow the precautionary measures put in place.

"The incident took place far away from the designated beach where life guards are present," he pointed out, however, admitting the number of guards is very small.

The deputy commissioner also praised all those who took part in the rescue work.

Highlighting the negligent behaviour of many who went to the beach during Eid holidays, Qazi said one man had taken a truck into the sea while another had taken a jeep.

He further said that the district government would also bear the funeral expenses of the people who drowned at Clifton beach in Karachi.
COMMENTS (11)
Comments are moderated and generally will be posted if they are on-topic and not abusive.
For more information, please see our Comments FAQ