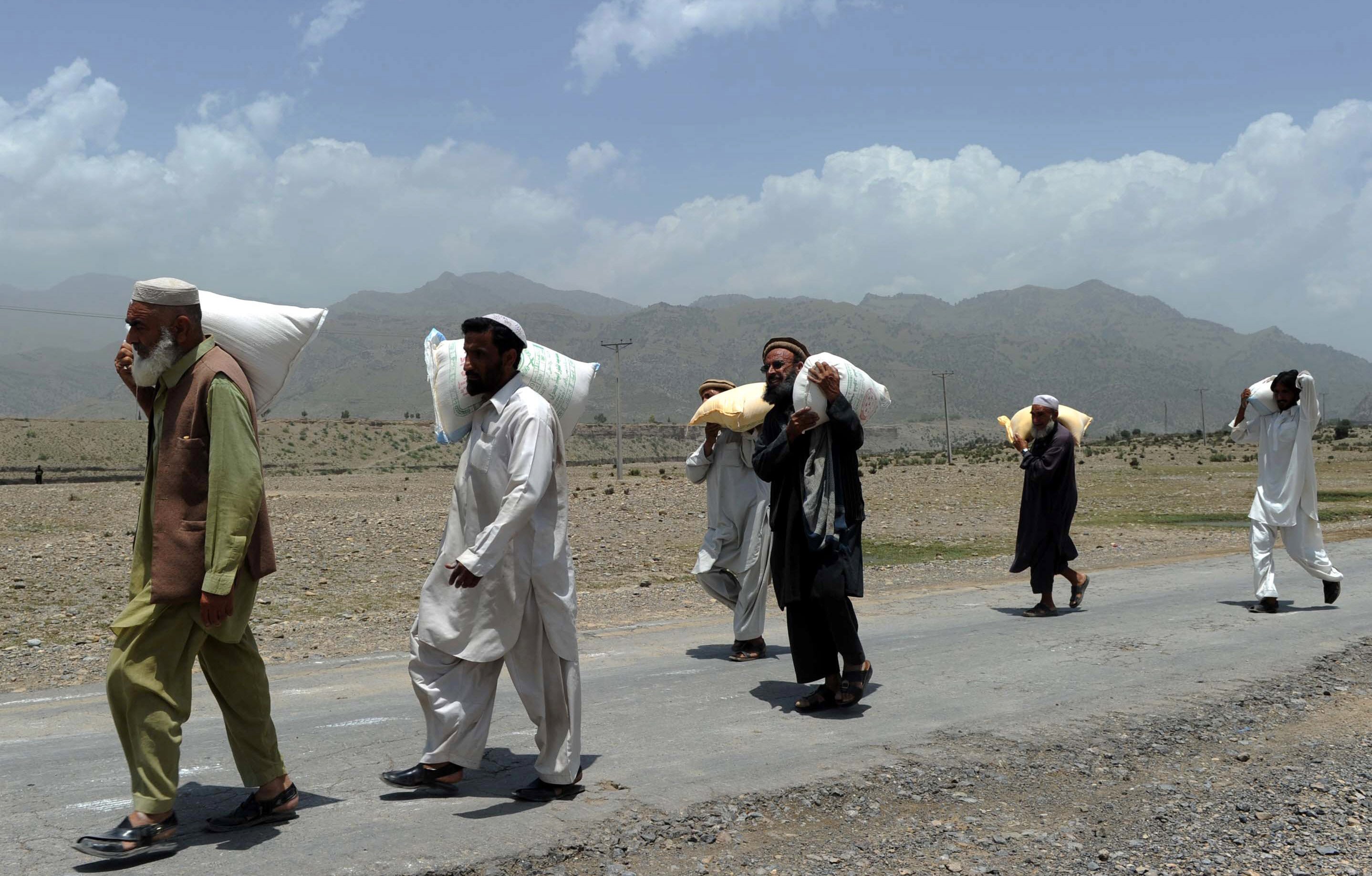 ---
PESHAWAR/ BANNU: Close to 90,000 tribesmen of North Waziristan Agency (NWA) moved to the settled areas of Khyber-Pakhtunkhwa and crossed over into Afghanistan's Khost province even before the official announcement of a military operation in the agency.

According to official data at an internally displaced persons (IDP) registration centre on Bannu-Miranshah Road, 49,199 individuals of 3,637 families have been registered, including 15,466 women and 23,449 children.

Official data available with authorities shows the number of displaced people who entered the district through various routes has crossed the 80,000 mark.

Owing to the mass exodus, prices of edible items have gone up, especially in Bannu. According to food authorities, stocks of wheat are fast depleting and the situation may turn ugly in the coming days with a severe shortage of food items if corrective measures are not taken.

Residents of Bannu say the official wheat storage facilities have been emptied out.

According to food controller Fidaur Rehman, an additional stock of 300,000 sacks of wheat is required just to fulfil the needs of Bannu's local population for the next three months. Only 28,000 sacks are left at official warehouses, clearly insufficient to meet local need.

"If we account for the massive displacement from NWA, then all food supplies are much less than the required demand," adds Rehman.

One of the displaced persons, Ikram Dawar, says the government has not yet devised any strategy for the provision of relief to the uprooted families. They face immense difficulties in the scorching heat, adds Dawar.

IDP to refugee

Around 7,000 tribesmen from Ahmadzai Wazir and other tribes have migrated towards Khost province, Afghanistan. Local officials say most of the displaced families, with around 1,500 children, have traversed through dangerous mountain routes to reach Afghanistan.

One elder shares most of the tribesmen opted to settle in Afghanistan rather than Pakistan because of the lack of facilities in IDP camps. He says most tribesmen from NWA have familial ties and properties on the other side of the border.

Khost Governor Abdul Jabbar Naeemi tells The Express Tribune a relief camp on 20 acres will be set up for the displaced people of NWA in the border area. "I have visited the area and all essential facilities will be provided to the people, including polio vaccines for children."

A Khost journalist, Ilyas Wahdat, says over 300 families have so far reached Khost for which the government is planning to set up a camp in Gurbuz district of the province.

"I have talked to displaced families and they are satisfied with the assistance extended by Afghan officials," shares Wahdat. Some of the tribesmen from NWA have migrated towards Paktika province, he adds.

Registration of displaced families has been carried out by Afghan authorities.

"Afghans have even vacated their own houses or portions of them to accommodate the affected people."

Published in The Express Tribune, June 16th, 2014.